World news story
NATO Summit in Wales - 100 days to go
With 100 days to go, Ambassador Sir Adam Thomson reflects on what's in store for the NATO Summit in Wales.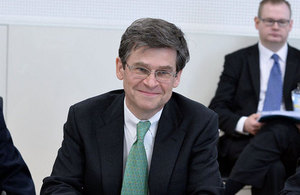 Today marks 100 days to go before the UK hosts the NATO Summit in Wales. This will be the largest gathering of world leaders that the UK has ever hosted. Over 60 heads of state and government are expected to attend, many accompanied by their foreign and defence ministers and senior military commanders. It will be a brilliant opportunity to showcase Wales on the international stage, reinforce the UK's leading role in NATO and demonstrate how the NATO Alliance is at the heart of the UK's defence.
Practical and policy preparations are already well under way. Next week, the Alliance's defence ministers will gather to take stock of the work so far. At the end of June foreign ministers will meet to give the 4 – 5 September Summit further shape. The issues at stake in both cases are substantial.
As NATO draws down in Afghanistan after its longest ever fighting mission, the Alliance is already facing other challenges. Russia's illegal annexation of Crimea and the continued volatility in eastern Ukraine are forcing a rethink about the security environment we have come to take for granted in Europe. During the Cold War the Alliance gave security and stability to its members. Since the Cold War NATO has played an important role in building a security environment right across Europe based on sovereignty, democracy and respect for international law. But Russia's actions mean we can no longer simply take that environment for granted. The Summit will have to respond to what Russia has done, drawing conclusions based on our commitments to defend each other and on the unacceptability of redrawing the borders of nations by force.
But the Summit will be about much more than just the situation in Ukraine. The Alliance is about much more than just Russia. In the last two decades, in the Balkans, in Afghanistan, through its anti-piracy operations and the Libya campaign, NATO has proven that it is adaptable in the face of emerging threats and thoughtful in the way it addresses security challenges. Its strategic concept, agreed in 2010, outlines the Alliance's three core tasks of collective defence, cooperative security and capable crisis management. Reinforcing our collective defence of each other, deepening and enriching our security cooperation with our non-NATO partners and strengthening our ability to manage crises will shape the Summit's agenda.
Each of these core tasks rests on the commitment set out by the Alliance's founding members, including the UK, 65 years ago to the defence of democracy, individual liberty and the rule of law in prospering, open societies for the preservation of international peace and security. Each of them is achieved through NATO's unique assets – a political Alliance of 28 members with an integrated military command and control structure bringing together unrivalled capability. It's no surprise that NATO attracts so many willing partners. NATO's mission in Afghanistan has brought together 50 countries to help the Afghan Government make sure that the country never again becomes a safe haven for terrorists. More than 24 non-NATO countries contribute around 4,000 troops to NATO-led operations. These partners strengthen NATO just as NATO offers capacity building, collaboration and consultation to them.
In 100 days' time at the Wales Summit at Celtic Manor outside Newport we will not only strengthen our collective defence. We will also deepen our partnerships, building our security cooperation, making ourselves more interoperable and better able than ever to manage future crises. That ability to adapt and grow is one of the reasons why NATO is still so relevant today.
Published 27 May 2014