World news story
NATO defence ministerial: what's on the agenda?
This autumn's NATO defence ministerial will address a number of issues, including NATO-Russia relations, Afghanistan and the Alliance's defence capabilities.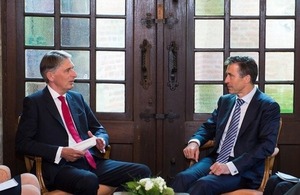 NATO defence ministers will gather in Brussels this week to discuss a number of important issues including NATO-Russia defence cooperation, defence capabilities and Afghanistan. The meeting, which will take place on Tuesday 22nd and Wednesday 23rd October, will be an opportunity for ministers to discuss and take stock of on-going work, with an eye towards the next NATO summit in 2014. This will be the first NATO ministerial meeting since the UK announced that it will host the NATO summit in 2014.
One of the headline sessions which will take place will be the NATO-Russia Council, the first at the level of defence ministers since 2011. It will also be the first opportunity for Allies to meet with Russian defence minister Sergey Shoygu since his appointment last year. The NATO-Russia Council was established in 2002 as a way in which NATO members and Russia could consult, cooperate and agree joint actions at the political and military level on security issues which are of common interest to both parties. Since then, cooperation has developed in a number of areas including counter-terrorism, peacekeeping, counter-narcotics, airspace management and civil emergencies.
Ministers on Tuesday will discuss and take stock of NATO's ongoing work in a number of areas including capabilities, the Connected Forces Initiative (CFI) and the NATO exercise programme. Developing capabilities are important because with Allied forces militarily engaged across several continents, NATO needs to ensure that its armed forces remain modern, deployable and sustainable. Specific capability issues which will be discussed include cyber and ballistic missile defence.
The Connected Forces Initiative aims to help maintain NATO's readiness and effectiveness through expanded education and training, increased exercises and the better use of technology. After the end of the International Security Assistance Force's mission in Afghanistan, CFI will look to build on the Alliance's experience, including lessons learned from 20 years of operations, to ensure that Allies can work even more effectively together and with partners.
On Wednesday, NATO Allies will meet with partners from the International Security Assistance Force (ISAF) and Afghanistan to review the transition process within the country. With Afghan security forces (ANSF) now taking the lead responsibility for security in the country, the ANSF continues to grow in capability, confidence and capacity. The transition to full Afghan security responsibility is due to be completed at the end of 2014, when ISAF's mission will end.
You can keep up to date with all the latest developments at the NATO defence ministerial on twitter via #NATOministerial and by following us @UKNATO.
Published 21 October 2013