National Security Council hold 'intensive' discussions on Afghanistan
Prime Minister David Cameron convened the Government's National Security Council (NSC) for "intensive" discussions about Afghanistan on Tuesday 1 June.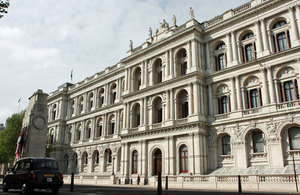 The "wide-ranging" session on the conflict followed the first visit to Afghanistan by Foreign Secretary William Hague, Secretary of State for Defence Dr Liam Fox and International Development Secretary Andrew Mitchell on the weekend of 22 May.
Following the meeting, a Downing Street spokesman said:
'The National Security Council met today at Chequers for continued discussions regarding the international strategy to bring about a more stable and secure Afghanistan.
There were wide-ranging, intensive and productive discussions during the extended session on this, the Government's top foreign policy priority. The Prime Minister and the NSC expressed their great admiration and support for our troops serving in Afghanistan and paid tribute to the essential contribution that they and their civilian colleagues make.
The NSC will now continue its work to ensure that the UK does all it can to support the agreed NATO strategy in Afghanistan to succeed.'
The Foreign Secretary, speaking to BBC news about the National Security Council meeting said:
'This is our fourth meeting since the new Government took office, part of getting to grips with the situation on Afghanistan and being able to chart a clear way forward there.'
In addition, the Prime Minister spoke to Afghan President Hamid Karzai on the afternoon of Tuesday 1 June. They discussed plans for the Afghan Peace Jirga. President Karzai informed the Prime Minister that preparations were well advanced and that attendance would be representative of the whole country. The Prime Minister gave his full support for the process and agreed with the President on the importance of the Jirga and the effective implementation of plans that it agreed.
Published 2 June 2010