Press release
National Probation Service appointments announced
Two people have been appointed to head up the new National Probation Service (NPS), the public sector body tasked with protecting the public from the most dangerous offenders in England and Wales, Justice Minister Jeremy Wright announced today.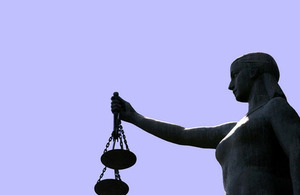 The appointments mark a crucial step forwards in the delivery of our wide ranging reforms to offender rehabilitation services that will help tackle the country's stubbornly high reoffending rates.
Mike Maiden, former Chief Executive of Staffordshire and West Midlands Probation Trust, will undertake the role of Director of Probation, leading the National Probation Service in England and Sarah Payne, current Chief Executive of Wales Probation Trust, will take up the post as Director National Offender Management Service (NOMS), Wales. Her role will also include overarching responsibility for public and private prisons and contractual oversight of private sector prison delivery in Wales.
They will lead a team of the country's top offender managers, working with around 30,000 offenders each year who pose a high-risk of serious harm to the public.
The new directors will work alongside private and voluntary sector organisations who will be delivering rehabilitation services to low and medium risk offenders within 21 Contract Package Areas across England and Wales.
Justice Minister Jeremy Wright said:
"I welcome these two new appointments - they are vital roles that will sit at the heart of our ongoing reforms to rehabilitation services.
"Both Sarah and Mike are highly respected in the field of offender management and have extensive operational front line experience that will be invaluable as they lead this important new organisation.
"The National Probation Service will be a dedicated and professional body of experts, working tirelessly to closely manage those who pose the gravest risks to our society."
Under radical changes to probation set out in May this year the NPS, working alongside a range of private and voluntary sector organisations, will replace the existing Probation Trusts and have overall responsibility for public protection, building upon the expertise and professionalism of the existing 35 Trusts.
The NPS will also be charged with ensuring tough action is taken where lower level offenders breach the terms of their licence or community order, including missing appointments, refusing to engage with their rehabilitation or slipping back into drugs and alcohol abuse.
Commenting on his appointment, Mike Maiden said:
"I am delighted to be appointed as the first Director of Probation. Most of my working life has been devoted to the work of Probation and its crucial role in protecting the public.
"The new emphasis of the NPS will be around exactly that issue. I will bring my experience to bear in creating an organisation that plays a key role in ensuring offenders are managed in a way that addresses the risk they pose, at the same time as offering them the opportunity to rehabilitate.
"I look forward to working with partner organisations and with the new providers of rehabilitative services, once they are appointed, in maintaining the excellent services that are already in place, while forging new approaches that build even greater effectiveness."
Commenting on her appointment, Sarah Payne said:
"I am absolutely delighted to be offered the role of Director National Offender Management Service, Wales. I relish the opportunity to lead the new National Probation Service in Wales and the Welsh prisons through a period of significant change.
"With our partners, we will create a truly integrated offender management system which will protect the public, make a step change in reoffending rates and help make the communities of Wales safer for all of us."
They will take up their full responsibilities in April 2014 in line with our Transforming Rehabilitation reforms, further details on the NPS structure will be announced in due course.
Notes to Editors
Mike Maiden is currently working on the Transforming Rehabilitation Programme within the Ministry of Justice and has previously been the Chief Executive of the Staffordshire and West Midlands Probation Trust. He has also served as a Chief Probation Officer in Cumbria. Mike's new role will see him manage the new National Probation Service in England.

Sarah Payne is currently the Chief Executive of the Wales Probation Trust and has previously worked as the Chief Executive of the Young Women Christian Association (YWCA) England & Wales (now Platform 51). She has also held posts in the Home Office and NOMS. Her new role will cover the management of both prisons and probation services in Wales.

For more information, including biographies and pictures, please contact the MOJ press office on 020 3334 3536
Published 9 August 2013