National Memorial Arboretum's development plans approved
Plans to develop the National Memorial Arboretum in Staffordshire into a world-renowned Centre for Remembrance have been given the green light by Lichfield District Council planners.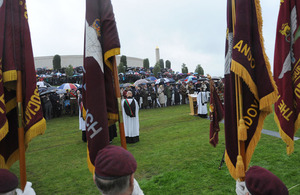 The plans were first introduced in April 2009 when the National Memorial Arboretum (NMA) Appeal was launched by His Royal Highness The Duke of Cambridge.
They include the building of a pavilion as a venue for special events and acts of remembrance, and the creation of a Remembrance and Learning Centre for visitors.
The Arboretum, which is part of the Royal British Legion family of charities, submitted its plans to Lichfield District Council in May 2012 following a period of public consultation.
The development of the Arboretum, which is now home to more than 230 memorials, welcomes 300,000 visitors and hosts more than 200 special events each year, is essential for its continued growth.
Major General Patrick Cordingley, Chairman of the NMA Appeal, said:
This is a major milestone for our £12m appeal. Work will begin on site in the very near future so that by the autumn of 2014 we will have a Centre for Remembrance worthy of all those whose lives it commemorates.
The appeal has raised over half the funds for the new building, and has a number of other pledges.
Donations can be sent to the National Memorial Arboretum Appeal Office at the Arboretum's address.
Work to prepare the site is likely to get underway in the coming weeks, with the cutting of the turf scheduled for the end of the year.
Published 3 September 2012