News story
National Information Board leadership summit to be screened live
The National Information Board (NIB) will hold its leadership summit at the Health and Care Innovation Expo 15 on 3 September.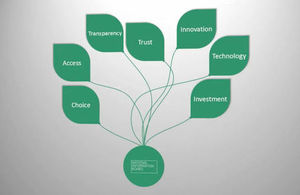 The quarterly summit will take place between 10am and 12:30pm. It will be streamed online, so you can watch it live and join the conversation on Twitter by following @Health_2020and using the hashtag #health2020.
The leadership summit will feature a keynote address by George Freeman, Minister for Life Sciences, discussing progress on commitments set out in the 'Personalised Health and Care 2020'.
An open session will follow the summit from 12:30 which gives delegates the chance to ask NIB leadership members your questions.
A panel discussion will also be taking place at Expo 15 from 2pm, discussing the best ways to use technology to benefit patients and citizens. Panel members include:
Una O'Brien
Sir Bruce Keogh
David Behan
Lynda Thomas
Susannah Fox
Published 25 August 2015