News story
National finalists announced
The finalists for the National Apprenticeships Awards 2016 national final have been announced today.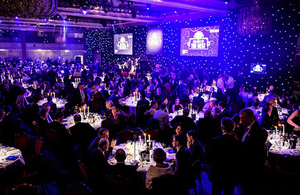 Nine apprentices and 18 apprentice employers have been named as finalists, representing a wide variety of sectors and roles. An apprentice champion winner will also be announced on the night.
Now in their 13th year, the National Apprenticeship Awards will take place on 20 January 2017 at Grosvenor House, Park Lane, London.
Businesses and apprentices will have to beat tough competition from across the country to win or be recognised as highly commended in their category.
Winners on the night will have demonstrated how employers can grow their own talent with apprenticeships and how apprentices make a significant contribution to the workplace.
Successful National Apprenticeship Awards 2016 national finalists are:
Unilever Small Employer of the Year
Ebsford Environmental Ltd
ISO Quality Services Ltd
Blu Sky Tax
British Gas Medium Employer of the Year
Troup Bywaters + Anders
Metalcraft
Michael and Margaret Naylor and Associates
BAE Systems Award for Large Employer of the Year
Mercedes-Benz UK
John O'Conner Grounds Maintenance Ltd
Yorkshire Housing
EON Award for Macro Employer of the Year
Whitbread
Lloyds Banking Group
Mitie Group Plc
Santander Award for Newcomer SME of the Year
Great Annual Savings Group
APTCOO - A Place To Call Our Own
Craggs Energy Ltd
Rolls-Royce Award for Newcomer Large Employer of the Year
Pickfords Move Management Limited
Bond Dickinson LLP
Softcat
The I-Can Qualifications Award for Intermediate Apprentice of the Year
Cameron Baker, Business Administration, Rentokil Initial
Charlotte Blowers, Nail Services, Exceed
Ashley Haslam, Vehicle Maintenance and Repair, Wilson's Autos
EAL Award for Advanced Apprentice of the Year
Becky King, Life Sciences and Chemical Science Professionals, National Physical Laboratory
Emma Goulding, Engineering, Siemens
Adam Sharp, Advanced Engineering Construction, Sellafield Ltd
The Nuclear Decommissioning Site Licence Companies Award for the Higher or Degree Apprentice of the Year
Melissa Loonam, Advanced Manufacturing Engineering, Rolls-Royce plc
Jack McCarthy, Supply Chain Management, Glaxosmithkline Pharmaceuticals (Ware) Ltd
Holly Broadhurst, Engineering, J C Bamford Excavators Ltd
Sue Husband, director, National Apprenticeship Service said:
"The awards process is in its final stages. We now know who the successful finalists are and I am really looking forward to hearing more about each finalist and their apprenticeship experience at our awards ceremony in January.
We should congratulate everyone who has reached this stage and been recognised as a finalist at a national level. Whatever happens on the night, each apprentice and employer deserves recognition for committing to and delivering on apprenticeships and for these individuals and employers, the level of success and impact brought by apprenticeships is huge.
Good luck to all finalists and thanks once again to our committed sponsors for supporting the 2016 awards."
To find out more about the apprenticeship awards visit GOV.UK.
Published 5 December 2016