Press release
National Employment Savings Trust Corporation: Trustee member appointments
The Minister for Pensions, Steve Webb, announced the appointment of Trustee Members to the National Employment Savings Trust.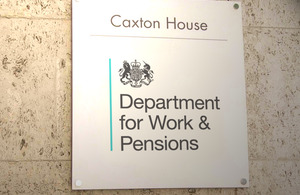 The Minister for Pensions, Steve Webb, today (3 April 2014) announced the appointment of the following Trustee Members to the National Employment Savings Trust (NEST) Corporation:
Ian Armfield
Carolan Dobson
Karen Silcock
Their appointments commenced on 1 April 2014.
Pensions Minister Steve Webb said:
I am pleased to announce that Ian Armfield, Carolan Dobson and Karen Silcock will be joining the NEST Trustee Board. Their skills and experience will strengthen the Board as well as complement its existing skills, knowledge and expertise.

This month sees the start of 1.2 million small and medium sized employers beginning to engage with automatic enrolment. I am confident that these appointments, alongside the Chair and existing Trustee Members, will steer NEST Corporation through the operational challenges of the next 4 years.
Lawrence Churchill, Chair of NEST Corporation, said:
I warmly welcome Carolan, Ian and Karen to the board of Trustees and look forward to working with them. A refreshed board will guide NEST through the challenges of the next phase of our journey. I would like to pay tribute to our retiring trustee members – Laurie Edmans, Paul Hewitt and Julius Pursaill for guiding NEST to its first million members.
More about NEST
NEST Corporation is a non-departmental public body sponsored by the Department for Work and Pensions. It was set up in July 2010 as a corporate trustee to run NEST.
NEST is a low-cost occupational pension scheme that employers can choose to use to meet their automatic enrolment duties.
NEST Trustee Members are public appointments made by the Secretary of State for the Department for Work and Pensions. Following an open and fair competition – regulated by the Office for the Commissioner of Public Appointments – these appointments commenced on 1 April 2014. They will receive a remuneration of £20,100 a year for a time commitment of 30 days a year.
In accordance with the Nolan Principles (the Seven Principles of Public Life), appointees' political activity (if any declared) should be made public. In addition, the Political Parties, Elections and Referendums Act 2000 requires the Electoral Commission to publish a register of recordable donations. Karen Silcock has in the past 5 years canvassed on behalf of or helped at during an election campaign for the Conservative Party.
The Trustee Members form the Trustee of the NEST Scheme. There must be a minimum of 9 and a maximum of 15 including the Chair.
The new appointees will join the existing Chair (Lawrence Churchill) and the Trustee Members (Tom Boardman, Chris Hitchen, Sue Slipman, Iraj Amiri, Sharon Darcy, Enid Rowlands and Nigel Stanley).
About the new appointees
Carolan Dobson
Carolan has a background in asset management and is an experienced Trustee and Non-Executive Director in public and private sector organisations. Her most recent experience is as the Chair of the Bespak Pension Scheme, JP Morgan European Smaller Companies Trust and Aberdeen Smaller Companies High Income Trust. She is also Chair of the Investment Sub-Committee for Vaillant Group Pension Scheme and a member of the Competition and Markets Authority. She has previously held a number of Non-Executive Director appointments, including at British Waterways and Chartered Securities and Investment Institute, and was Trustee of the Avon Local Government Pension Scheme until 2012.
Ian Armfield
Until 2011, Ian spent most of his working life as an audit and risk assurance partner at PWC. Ian has more than 20 years experience specialising in investment, risk management and pensions. Since November 2012, he has been a Non-Executive Director and Chair of the Audit Committee at Keystone Investment Trust PLC. He is currently a member of the DC master trust assurance working group at the Institute of Chartered Accountants in England and Wales (ICAEW).
Karen Silcock
Karen has a background in accountancy, audit, insolvency, corporate finance and risk management, and between 1993 and 2010 she held a wide range of partner positions at Deloitte LLP. Her more recent experience is as Non-Executive Director at the Office for Legal Complaints and as a Charity Trustee at the Wildlife Trust for Bedfordshire, Cambridgeshire and Northamptonshire. Until December 2013 her public policy roles included Chair of the Federation of European Accountants Money Laundering Committee, and previously she was Chair of ICAEW Money Laundering sub-committee and an elected member of the ICAEW council from 2007 to 2009.
Contact Press Office
Media enquiries – 0203 267 5129
Press Office
Caxton House
Tothill Street
London
SW1H 9NA
London Press Office (national media and London area enquiries only – not questions about personal claims) 020 3267 5144
Out-of-hours (journalists only) 076 59 108 883
England and Wales (local media enquiries) 029 20 586 then 097 or 098 or 099
Scotland (local media enquiries) 0131 310 1122
Follow DWP on:
Published 3 April 2014