News story
National Ebola exercise concludes
National exercise to test preparedness for Ebola in the UK as part of contingency planning concludes.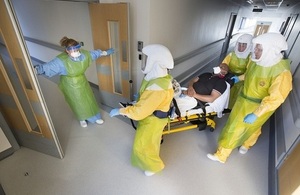 Ministers, government departments and dozens of expert medical professionals from ambulance services, hospitals and Public Health England have participated in a national exercise today to test preparedness for an Ebola case in the UK.
The Prime Minister ordered the exercise as part of the UK's ongoing contingency planning to ensure the public is protected.
The 8 hour scenario involved different exercises in different geographical locations, volunteer actors simulating Ebola symptoms and medical personnel wearing personal protective equipment.
Health Secretary Jeremy Hunt is chairing a simulated COBR as part of the exercise, which is being attended by other ministers, senior officials and the Chief Medical Officer.
Health Secretary Jeremy Hunt said:
This is an extremely useful exercise and I feel doubly reassured that we have robust plans in place in the event that we get an Ebola case in the UK. We will evaluate what went well and what we need to improve.

This exercise is just one small part of our ongoing contingency plans for Ebola. It builds on activity we routinely practise for a wide variety of illnesses and other emergencies.
Examples of the scenarios tested were:
Paramedics being called to a Gateshead shopping centre after a person collapsed after feeling unwell. After being assessed, the patient was then transferred to the Royal Victoria Infirmary in Newcastle and placed in isolation. After initial blood tests rule out malaria, the consultant felt that the patient could have Ebola. After discussion with the consultant microbiologist and PHE, samples were sent rapidly to PHE Porton Down for testing. Following the diagnosis of Ebola, the patient was transferred to the Royal Free in London. The Royal Victoria Infirmary, PHE and ambulance trust also simulated tracing the patient's movements and known contacts.

A separate case involving an individual walking into Hillingdon walk-in centre presenting with flu-like symptoms, having recently returned from West Africa. Initial blood tests ruled out malaria and samples were sent to PHE in Porton Down. The patient has now been isolated and after being diagnosed with Ebola, is awaiting transfer to the Royal Free. Public Health England has also started the process of tracing the individual's contacts.
Chief Medical Officer Professor Dame Sally Davies said:
This vitally important exercise gave a very realistic test of how prepared the system is to deal with a case of Ebola. Today has included a variety of scenarios involving personnel from hospitals, ambulance services and local authorities around the country.

I would like to thank everyone involved and assure the public that we will now use this exercise to further strengthen our resilience plans.
This exercise is one of a number of measures brought in by the government to deal with the threat of Ebola, though the risk to the UK remains low.
Noreen Rice, Hillingdon Hospital Emergency Care Services Manager said:
We have learned things from this experience today. The more you practise the better you get and it was really useful to help us test out just how prepared we are for dealing with an incident like this.

I am confident that we can manage these situations.
The doctor who managed the patient care, Amy Bibby, Hillingdon Hospital Senior House Officer, said:
It's been really rewarding to be involved with this exercise. I'm glad to be able to help test out our procedures and hopefully it will help other colleagues with their planning in the future.
Following advice from the Chief Medical Officer, enhanced screening will be implemented at London's Heathrow and Gatwick airports and Eurostar terminals and will involve assessing passengers' recent travel history, who they have been in contact with and onward travel arrangements, as well as a possible medical assessment, conducted by trained medical personnel rather than Border Force staff.
Passengers will also be given advice on what to do should they develop symptoms later and information posters will be put up in UK airports.
The UK has been at the forefront of responding to the Ebola outbreak and has contributed £125 million to support the Ebola crisis to date. This will help support 700 treatment beds to aid up to 8,800 patients over 6 months, as well as shoring up Sierra Leone's stretched public health services to help contain the disease. This also includes vital supplies such as chlorine and protective clothing for thousands of health workers.
The UK will also send 750 Ministry of Defence personnel to help with the establishment of Ebola treatment centres and an Ebola training academy. This will include the deployment of RFA Argus to take and support three Merlin helicopters, more than 200 military staff deployed to run and staff World Health Organization-led Ebola training facilities and additional personnel to help deliver support to the Sierra Leone government.
Earlier this month the international community met in London at the Defeating Ebola Conference and made clear that it would take decisive steps to help Sierra Leone to combat Ebola. The Conference brought together more than 20 governments, a dozen charities and NGOs, the UN, World Bank, health experts and the private sector to pledge funds, equipment and health workers.
Published 11 October 2014