Press release
National crack down on rogue traders and waste criminals
Rogue traders across the UK were targeted in a national day of action on Wednesday 13 April 2016 as part of a crime prevention initiative.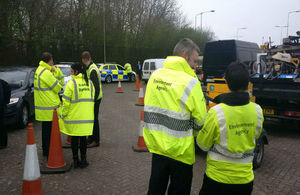 Activities on the day ranged from executing warrants, identifying vehicles used by criminals through automatic number plate recognition (ANPR) to conducting intelligence-led patrols in areas where older or vulnerable people live.
Police and trading standards services coordinated efforts across the country with support from the Department of Work and Pensions, Environment Agency, HM Revenue and Customs, the DVLA, the DVSA, Border Force and Scambusters to catch rogue traders and to prevent innocent people from becoming victims of crime.
Over 30 Environment Agency Officers were out on the ground working closely with emergency responders and investigators. Environment Agency teams were involved at locations right across England.
Staff physically assisted in over 200 road side checks of vehicles and site visits.
In 2015 Operation Rogue Trader saw over 100 people arrested, £3.1m worth of property recovered and over 5,000 vehicles inspected.
Andrew Luckett, the Office Manager for Operation Liberal, said:
Distraction crimes and scams continue to occur and the victims are swindled out of their life savings for unnecessary and overpriced work which has a detrimental effect on the victim's health and their confidence.
We will continue to carry out operations like this and remind the public to remain vigilant and report any suspicious activity or concerns about an individual offering to carry out work to the relevant agency.
Operation Rogue Trader is led by Operation Liberal, the national intelligence unit that links associated crimes and gathers intelligence on key nominals and organised crime groups who travel extensively throughout the UK.
Nicky Lawton, Deputy Director of the Environment Agency's Enforcement Service said:
The Environment Agency works closely with partner enforcement organisations to identify and stop rogue traders. We will take action against illegal operators who risk polluting the environment and undercutting legitimate businesses.
Any waste collector should have Environment Agency permits, always check whether a trader is legitimate and if you are suspicious of a waste collector report it to the incident hotline 0800 80 70 60 or Crimestoppers.
Steve Playle, the Chartered Trading Standards Institute lead officer for doorstep crime said:
Operation Rogue Trader is a great opportunity for the different partners involved in tackling doorstep crime to come together and carry out some enforcement work and to raise awareness of the issues. Cold calling criminals undertaking property maintenance work continue to exploit vulnerable and elderly home owners.
Trading Standards officers right across the UK are committed to making criminal's lives as difficult as possible by sharing intelligence, causing disruption and taking criminal prosecutions where necessary.
Anyone with information that could lead to the arrest of any doorstep offender or rogue trader should ring their local police or call Crimestoppers, the national charity, anonymously on 0800 555 111.
People should report cases of rogue traders or uninvited doorstep callers to Citizens Advice Consumer Service on 03454 04 05 06.
The Environment Agency hotline is: 0800 80 70 60
ENDS
Background to Operation Rogue Trader
Operation Rogue Trader is a joint operation being run by Operation Liberal, the national intelligence unit whose remit includes burglary and fraud, and Trading Standards.
Rogue traders are criminals who take advantage of householders by using high pressure sales techniques. The work is often sub-standard or not required at all.
A distraction burglar is defined as someone who gains access to your property by distracting or tricking their way in to steal cash or valuables.
Operation Liberal
All forces in England, Wales and Scotland are members of Operation Liberal. Operation Liberal supports national investigations into doorstep crime and other acquisitive serious organised criminality.
The unit identifies and analyse crime series and monitors intelligence on criminals and organised crime groups who travel throughout the UK to commit these crime types. This collaborative approach solves more crimes and sends a message to the criminals who commit this type of crime that they will face a nationally co-ordinated investigation and as a result they can expect significant sentences.
Published 15 April 2016