World news story
National Book Store partners with the British Embassy Manila for British Book Festival
This was published under the 2010 to 2015 Conservative and Liberal Democrat coalition government
The British Book Festival offers a 10% discount on selected books by British authors and publishers. Promo starts on 21 October.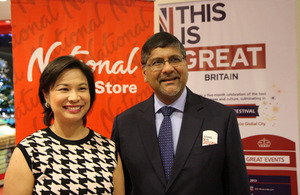 To celebrate British business and culture, National Book Store, in partnership with the British Embassy Manila, is launching the British Book Festival which offers a 10% discount on selected books by British authors and publishers.
The British Book Festival is part of Philippine-British Friendship Week and the "This is Great Britain" campaign, a five-month festival celebrating all that is best about Great Britain and its partnership with the Philippines.
British Ambassador Designate Asif Ahmad, welcomed National Book Store's initiative. Ambassador Designate Ahmad said:
National Book Store is an established institution in the Philippines. For decades, its stores have offered a wide selection of books from all over the world. It comes as no surprise that they source a lot of their books from the UK. National Book Store's British Book Festival showcases the UK as a center for knowledge and creativity. I encourage everyone to buy and read the books offered in the British Book Festival. I hope that reading these books will not only inspire people to educate and entertain themselves more through literature, but also to go and see the places in the UK that they read about.
Xandra Ramos-Padilla, National Book Store's Purchasing Director said:
For 70 years, National Book Store has offered the best selection of books with the aim of promoting education and enriching lives through reading. We are proud to be supporting the British Embassy Manila, by showcasing the United Kingdom and the abundance of literary talent it has produced including William Shakespeare, J.R.R. Tolkien, Charles Dickens, Jane Austen, Oscar Wilde, Helen Fielding, Neil Gaiman, Douglas Adams and many more.
The UK Publishing industry is one of the most culturally and commercially diverse in the world, with a combined turnover of £19B comprising of books, newspapers and magazines and approximately 150,000 new titles per year.
Promo runs from October 21 to 31, 2013 in selected National Book Store branches. Shop online and purchase e-books at www.nationalbookstore.com.ph. Follow National Book Store on Facebook, Twitter and Instagram @nbsalert for updates on the latest events, promos and contests.
Further Information
About This is Great Britain:
'This is Great Britain' is a five-month celebration of the best of British business and culture, building mutual prosperity and deeper friendship with the Philippines. This series of events will showcase British innovation and creativity as experienced through music, food, fashion, film, education, literature, art and design.
A series of events from film premiers, to screened performances from the highly acclaimed National Theatre, to trade shows, business networking, celebrations of food, encouraging entrepreneurs, fashion and education will culminate in a 3-day festival on Bonifacio High Street in March 2014. The season of events start in the week of 20 October which marks Philippine-British Friendship Day.
Details of the various events and how you can get involved can be found at the British Embassy Manila Facebook page, Twitter: @ukinphilippines and website. Interested parties may contact the GREAT events team at GREAT@britchamphil.org
'This is Great Britain' is organised by the British Embassy Manila, UK Trade & Investment, British Chamber of Commerce Philippines, British Council and British Alumni Association.
The event is co-presented by Bonifacio Global City and Bonifacio High Street, and media partners The Philippine Star, Philippine Daily Inquirer, 99.5 Play FM, Easy Rock 96.3, Mellow 94.7 and Solar News Channel.
Document information
Published: 22 October 2013