News story
National Apprenticeship Week 2013
Deputy Prime Minister Nick Clegg has called for apprenticeships to be given "the recognition and profile they deserve" in a video message.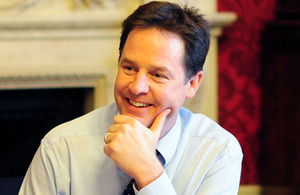 National Apprenticeship Week 2013
The full transcript is below:
Apprenticeships are essential for many businesses, invaluable for individuals, and crucial for the wider economy. The good news is there has never been a better time to employ an apprentice or start an apprenticeship because in this financial year the coalition government invested £1.5 billion in apprenticeships. So if we want to kick start our economy, we need to ensure all of our talented and ambitious young people are getting into work.

We're already seeing a record number of businesses clamouring to take on apprentices. Because they know the value that this talent and ambition can bring to their business. And that's why nine out of ten employers believe that staff with vocational qualifications are vital for the success of their business. And why the number of new apprenticeships increased in the last year by around 14%, topping the half million mark.

We've actually made it easier for small firms to take people on. As a sign of our belief and commitment to investing in apprenticeship schemes, smaller businesses who want to recruit their first apprentices can get a helping hand from the government. Through the Youth Contract, the Government will give cash incentives for small companies who want to take on apprentices.

We also asked Doug Richard, entrepreneur and former BBC Dragon to lead the government's review into apprentices. And we support his findings - that high quality apprenticeships don't just benefit the apprentices - they make good business sense. And, apprenticeships are good value for money - delivering returns of as much as £21 for every pound of government investment. So I think we can all agree that's money well spent.

I've seen for myself the value that apprenticeships bring and had the pleasure of meeting so many apprentices from all parts of the country. Like the apprentices who  are the future of Britain's automotive industry at Aston Martin in Gaydon or the apprentices at the Peugeot Citroen Academy who are trained in sales and management as well as in technology. The Academy recently announced that they're doubling the scale of their apprenticeship programme over the next two years - training an extra 300 apprentices. It's time we give apprenticeships the recognition and profile they deserve, and realise that a vocational route is as important as an academic one allowing graduates and apprentices the same status and employment opportunity.

So let's ensure that this year's National Apprenticeship Week is the biggest and best yet, and see these record achievements smashed next year. I'd like to thank everyone who is supporting National Apprenticeship Week. Without your support the week would not be as successful as it is.
View the story "National Apprenticeship Week 2013 #NAW2013" on Storify
Published 10 March 2013