National Apprenticeship Week 2012: Deputy Prime Minister message
Nick Clegg has underlined his support for apprenticeships with a message marking the beginning of the fifth National Apprenticeship Week.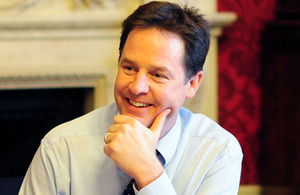 A message for National Apprenticeship Week
In the message, the Deputy Prime Minister highlights that apprentices will now more accessible to small businesses with the introduction of a £1500 cash incentive for small businesses taking on their first apprentice under the age of 24.
Read the full transcript of the Deputy Prime Minister's message:
I am delighted that the fifth National Apprenticeship Week looks set to be the biggest and best yet…
With hundreds of events taking place across England.
I've long believed that we, as a country, need to put apprenticeships right at the heart of how we educate and train people.
It's high time we broke down the outdated divide between the academic route and a more vocational path.
Not least because, if we want to get our economy growing strongly again…
We need to make the most of all of our ambitious, talented and hardworking young people. 
We know that firms which employ apprentices say it makes them more productive.
We know the vast majority of consumers say they would rather use companies that employ apprentices;
And we know that, for so many young men and women, these programmes open the door to a long-lasting and successful career.
 That's win-win all round, and it's why the Coalition Government has committed record investment to apprenticeship schemes….
Creating more places than ever before.
Recently we've seen some big British names announce they'll be taking on more apprentices - HSBC, Jaguar, McDonalds, Asda…
And that is fantastic news.
But we're also making it much easier for small firms to take people on…
Cutting red tape so it isn't a bureaucratic nightmare…
And introducing a new £1500 cash incentive for small businesses taking on their first apprentice under the age of 24…
Part of the Government's Youth Contract, which aims to help over 400,000 young people into work.  
I want to see apprenticeships become part of the bloodstream of the British economy…
And it's that level of ambition I want us all to celebrate and commit to this week.
Published 22 May 2012