Press release
Mytholmroyd residents invited to learn about flood scheme design
Working flood model demonstrates flood protection measures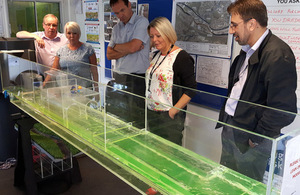 Residents of Mytholmroyd will be able to experience first-hand how to design and plan a flood scheme, as a huge interactive flood model was delivered to the flood information centre this week.
The model recreates a river, into which users can pump water and place obstacles such as bridges and buildings, in order to see how a river would react. Staff at the information centre, which is open to the public on Mondays, Wednesdays and Fridays, are encouraging local people to come and have a go on the model, and ask questions about the new flood scheme planned for Mytholmroyd.
Johnny Lyttle, the Environment Agency's Project Manager for the scheme said:
The flood model is good fun and a great way to understand the challenges of planning a flood defence scheme. By putting obstacles such as bridges in different places it is possible to see how every action taken has a consequence somewhere else along the river system – giving a visual insight into the complexities of a river system. We hope that people will come along and try it out, and our experts will be there to answer any questions that they may have about the model and the new flood scheme.
A public consultation on the final design of the Mytholmroyd flood defence scheme is due to start in early September, with construction of the scheme set to begin before the end of the year.
On Boxing Day 2015 around 370 properties were flooded in Mytholmroyd as extreme rainfall affected the upper Calder Valley. Since then, Environment Agency teams have carried out thousands of inspections, made crucial repairs and constructed temporary defences. A flood action plan for the town was published in May this year setting out plans for permanent improvements to flood protection.
The Mytholmroyd Flood Information Centre located in the car park of the community centre, and is open Monday 10am to 4pm, Wednesday 1pm to 7pm and Friday 10am to 4pm.
Published 18 August 2016