Myth busters: Floods, cow flatulence, replacing woodlands and forestry projects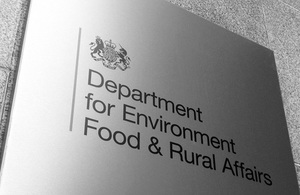 Cuts in the floods budget
The Myth - BBC Breakfast this morning reported that our planned reduction in the floods budget of 8% is, in reality, a 25% cut because of what was planned by the previous government.
The Truth - the previous plans hadn't been given the green light by the Treasury. No money had been committed to fund the plans, which means they couldn't have gone ahead anyway - so to claim the new plans represent a 25% cut is nonsense. We've protected the budget as much as possible, meaning 145,000 homes will be better protected from flooding.
Further information
Studying cow flatulence
The Myth - Today's Express suggested Defra was spending £12 million on a study into cow flatulence.
The Truth - We're investing in research worth £12 million over four and a half years, which has been set up to improve our understanding of what agriculture can do to reduce greenhouse gas emissions and play its role in combatting climate change.  This might include showing how some breeds of cattle produce less methane - but that's only one part of a range of ways that farmers may be able reduce the emissions from their businesses.
Replacing woodlands with golf courses and holiday parks
The Myth - A number of newspapers have speculated that forthcoming proposals to make changes to the way that the public forest estate is managed will lead to woodland being replaced with golf courses and holiday parks.
The Truth - Protecting the environmental and public benefits of all of England's woodland, not just the 18% which comprises the public forest estate, is not dependent on public ownership. The legal safeguards that protect all woodlands from development will remain irrespective of who owns them.
We will soon be consulting on the future of the public forest estate in England.
UK and international forestry projects
The Myth - Defra's proposals for the public forest estate are in direct contrast to the recent announcement to provide £100 million for international forestry projects.
The Truth - The £100 million funding announced in Nagoya is specifically for forestry projects which benefit biodiversity. The money forms part of the £2.9 billion that the Government recently pledged for international climate finance and is entirely Overseas Development Assistance (ODA) budget. This reflects the Government's commitment to enhancing biodiversity, tackling climate change and reducing global poverty around the world.
Our proposals for the public forest estate here will still protect our woodland while the ODA funding will help other countries preserve their forests.
Further information
Published 5 November 2010