Myth bust: Defra is ignoring research into the effect of neonicotinoids on bees
The myth: In an article on the Guardian website "The silence of the bees" they claim that Defra is ignoring research into the effect of neonicotinoids…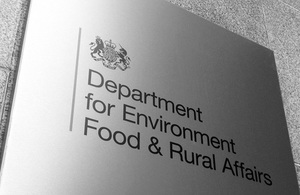 The myth: In an article on the Guardian website "The silence of the bees" they claim that Defra is ignoring research into the effect of neonicotinoids on bees
The truth: This claim is completely untrue.
Regulation needs to be based on all available scientific evidence. Defra is not complacent and is carrying out new research into neonicotinoids which replicates field conditions.
This follows the publication of research suggesting neonicotinoids were harming bees. Defra's Chief Scientist asked expert groups such as the Chemical Regulation Directorate and the independent expert Advisory Committee on Pesticides to review what the research said. The groups reported back that the research either used neonicotinoids at a higher level than is currently permitted or wasn't carried out under field conditions, and that other research carried out under field conditions using regulated levels of pesticide showed no serious impact on bees.
Published 19 September 2012