News story
Mundell highlights fight against counterfeit goods
David Mundell welcomes an agreement between European Union and Chinese Authorities in the fight to tackle counterfeit goods.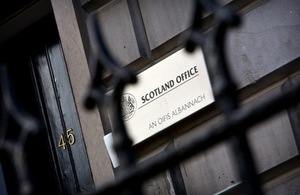 In Beijing yesterday, European Commissioner for Agriculture and Rural Development, Dacian Cioloș and the Chinese Minister Zhi Shuping signed a letter of intent regarding the counterfeit in trade of alcoholic beverages.
The letter acknowledges the growing significance of bilateral trade in alcoholic beverages, realises the importance of origin identification and recognises the need to cooperate closely in combating counterfeiting in this sector.
China is a growing market for Scotch Whisky. In 2012 over 22m bottles of Scotch whisky were sold in China as global Scotch whisky exports hit a record high. They now account for around 80% of Scotland's total food and drink trade and a quarter of the UK's.
In November 2010 Business Secretary Vince Cable signed an agreementwith the Chinese authorities giving Scotch Whisky Geographical Indication protection. This meant that Scotch sold in China can only be sold as a product which is made in Scotland, giving consumers greater certainty that the product bought is genuine.
Scotland Office Minister David Mundell said:
The UK Government with its extensive diplomatic, consular and trade networks is working hard across the world to attain Geographical Indication in new and expanding markets such as China for Scotland's world renowned produce.

The agreement reached by the EU and China is to be welcomed. With Geographical Indication for Scotch whisky already reached in China, this agreement means that the consumer in China has greater protection from inferior counterfeit products and closer to home will help to ensure that Scottish whisky industry is able to fully benefit from the fast expanding Chinese market.
Published 24 July 2013