Press release
Multi-million pound maritime research funding available
New maritime science and technology research.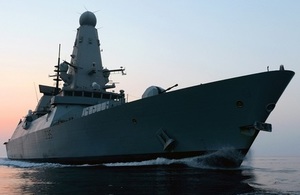 The Defence Science and Technology Laboratory (Dstl) is seeking suppliers to help build and sustain UK maritime science and technology (S&T) expertise. The Progeny Maritime Research Framework will create a community of S&T suppliers to support current and future maritime research projects.
Dstl is hosting an industry day for potential prime and sub-contractors to find out more about the opportunities and to share views on shaping and delivering the work. The event will be held on 18 March 2016 at Norton Park, Winchester. If you are interested in registering for the industry day please contact DSTLProgeny@dstl.gov.uk by 15 March 2016.
The Progeny Maritime Research Framework will be worth up to £200 million over 8 years and it is anticipated that requirements will be delivered by industry, including small and medium sized enterprises (SMEs), and academia.
The Progeny Maritime Research Framework will support S&T research for current in service capability and the next generation of maritime technology. Examples of research areas it will address include unmanned systems, future submarine platforms and underwater communications and networking.
Ben Evans, Maritime Freedom of Manoeuvre Programme Manager, Dstl says:
The Progeny Maritime Research Framework reflects the importance of having a broad and enduring maritime science and technology community. We hope it will encourage industry and academia to come together in support of maritime science and technology to help us develop the next generation of maritime equipment.
Published 10 March 2016
Last updated 10 March 2016
+ show all updates
Change of venue for industry day
First published.