Press release
Multi-million pound future cities catapult to be hosted in London
A new Catapult centre that will help make cities become smarter and more forward thinking will be hosted in London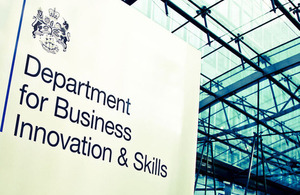 Up to £150 million investment from the Technology Strategy Board and industry
London chosen to host the Future Cities Catapult
Sir David King is appointed as Chair of the Board
A new Catapult centre that will help make cities become smarter and more forward thinking will be hosted in London, Business Secretary Vince Cable announced today, following on from the announcement that Glasgow will host the Future Cities demonstrator.
The Catapult will be funded by up to £50 million over five years through the Technology Strategy Board. With additional private sector inputs, the funding for the centre is expected to rise to around £150 million.
The Catapult will look at ways in which services across areas such as health, transport, energy and public safety can be integrated, helping to boost the economy and benefit citizens. The Catapult will play a key part in the government's industrial strategy and give real insight into how our cities can be smarter in the future. It is also estimated that the global market opportunities for future cities is in the region of £200 billion a year by 2030.
The Minister also announced that the Catapult will be chaired by Sir David King.
Making the announcement at Innovate UK 2013, Secretary of State for Business Vince Cable said:
One of the decisions of this government I am most proud of is establishing a chain of Catapults across the UK. These are national centres of excellence, promoting innovation in collaboration with business.
The Future Cities Catapult centre will be hosted in London, working in collaboration with the Future Cities demonstrator project in Glasgow. This latest addition to the Catapults network will complement those established in high value manufacturing, satellite applications, cell therapy, offshore renewable energy, transport systems and connected digital economy.
In Sir David King we have also appointed an excellent chair, with real expertise in this area. His knowledge will drive forward the Catapult and ensure that the UK leads the way when it comes to making sure our cities are smarter and more forward thinking.
Commenting on his appointment Sir David King said:
The challenges the modern city faces globally as we move through the 21st century cannot be underestimated. I am honoured to have been appointed Chair of the Future Cities Catapult which will tackle some of the most critical issues we currently face as a society.
Chief Executive of the Technology Strategy Board Iain Gray said:
We are pleased that Sir David will join the Future Cities Catapult. His great knowledge and experience and ability to tackle complex issues will be of a huge benefit to the Catapult and the businesses it will work with.
London is recognised as a truly international city. Its unique set-up including national and international transportation links, world-class universities, leading engineering, construction and digital businesses and highly-skilled staff makes it the perfect place for the Catapult.
Sir David is most known for his role as Chief Scientific Advisor to the government (2000 – 2007) where he worked closely with the Prime Minister and Cabinet on key scientific issues including climate change. He was also prolific in setting up the Smith School of Enterprise and the Environment (a department of the University of Oxford) to address global environmental challenges.
Sir David will start his new role with immediate effect, assisting the Technology Strategy Board to recruit a Chief Executive for the Catapult. Ongoing responsibilities will include ensuring the Catapult team meets its strategic objectives, agreed with the Technology Strategy Board, as well as ensuring good corporate governance for the organisation.
The Future Cities Catapult is part of a network of world-leading technology and innovation centres established and overseen by the Technology Strategy Board as a long-term investment that will open up global opportunities for the UK and generate economic growth for the future. With investment from public and private sectors of around £1 billion over the coming few years, Catapults represent one of the most important developments in UK innovation and technology, and will make a major impact for years to come.
The Catapult will work closely with Glasgow city council, who recently won £24 million of government funding for a future cities demonstrator. The demonstrator will work alongside the Catapult in London to make sure there are opportunities for innovative UK businesses to develop integrated urban solutions that can be sold to cities across the world.
The Future Cities Catapult will be active later this year will work closely with other Catapults in the network including Transport Systems, Connected Digital Economy and Satellite Applications.
Notes to Editors:
1.The Technology Strategy Board is the UK's innovation agency. Its goal is to accelerate economic growth by stimulating and supporting business-led innovation. Sponsored by the Department for Business, Innovation and Skills (BIS), the Technology Strategy Board brings together business, research and the public sector, supporting and accelerating the development of innovative products and services to meet market needs, tackle major societal challenges and help build the future economy. For more information please visit www.innovateuk.org.
2.Catapults are to be established by the Technology Strategy Board, as a new addition to its range of programmes to stimulate innovation. They are places where the best of the UK's innovative businesses and researchers work together to bring new products and services more quickly to commercialisation. Focusing on areas with great market potential, Catapults will open up global opportunities for the UK and generate economic growth for the future.
3.The Future Cities Catapult will bring together UK business and SMEs, (city) governments and academia to encourage businesses to develop exciting new ideas. They will also allow ideas to be demonstrated in a controlled environment and later developed into commercial products and services to be sold all over the world.
4.Sir David King will bring academic and government policy experience with him to his new role. During his tenure as Chief Scientific Advisor he has raised the public awareness of climate change and also advised the government on a wide variety of long-term issues, from flooding to obesity. His academic history includes a number of educational institutions such as Imperial College, University of East Anglia, University of Liverpool, University of Cambridge, Downing College and was Founding Director of The Smith School of Enterprise and the Environment at the University of Oxford.
5.The Technology Strategy Board worked closely with its engaged community to identify the most important criteria for the location of the centre. Independent economists at the Centre for Cities then analysed multiple sources of data against our criteria. This criteria included:
National and international transport infrastructure
Strong (relevant) university support
Advanced digital infrastructure
Supporting business environment
Rich population of skilled staff
6.The potential global market for businesses looking to provide integrated citywide solutions is £200 billion.
7.The Technology Strategy Board will oversee the establishment of the Catapults. Catapults for High-Value Manufacturing, Cell Therapy, Offshore Renewable Energy and Satellite Applications are already open. Catapults centres for Future Cities and Transport Systems will be open in 2013.
8.Media enquiries about the Technology Strategy Board should be addressed to: Simon Napper, Media Relations, Technology Strategy Board, 07881 842583, simon.napper@tsb.gov.uk or the media relations team: 07766 901150, pressoffice@tsb.gov.uk.
9.Companies and other organisations seeking information about Technology Strategy Board funding competitions should visit the Competitions page of the Technology Strategy Board website – Competitions page, email competitions@innovateuk.org or phone the Competitions Helpline at 0300 321 4357.
10.To see all press releases from the Technology Strategy Board please visit: Press Releases.
11.To subscribe to the Technology Strategy Board's RSS newsfeed please visit: RSS newsfeed.
12.The government's economic policy objective is to achieve 'strong, sustainable and balanced growth that is more evenly shared across the country and between industries'. It set four ambitions in the 'Plan for Growth' (PDF 1.7MB), published at Budget 2011:
to create the most competitive tax system in the G20
to make the UK the best place in Europe to start, finance and grow a business
to encourage investment and exports as a route to a more balanced economy
to create a more educated workforce that is the most flexible in Europe.
Work is underway across government to achieve these ambitions, including progress on more than 250 measures as part of the Growth Review. Developing an Industrial Strategy gives new impetus to this work by providing businesses, investors and the public with more clarity about the long-term direction in which the government wants the economy to travel.
Published 12 March 2013