Press release
Multi-million pound college investment will support British industry
More colleges to benefit with third round of investment to come.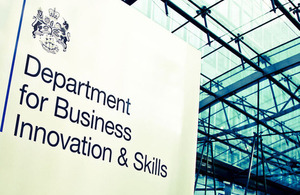 More than 20 further education colleges throughout the country will invest £168 million in building modern facilities thanks to government investment. Many of these new projects are for skills training in sectors vital for growing British industry including engineering, construction and automotive.
The government is targeting those in the greatest need of help and those that can best support growth by investing £77.7 million through the Skills Funding Agency. This will be matched with more than a £91.1 million investment from colleges.
This funding is the second round of the College Capital Investment Fund (CCIF), through which £550 million is being made available between 2013 and 2015.
This latest round of funding comes after 47 colleges received funds through the Enhanced Renewal Grant (ERG) Three, and 2 more through an initial round of CCIF.
Secretary of State for Business, Innovation and Skills Vince Cable said:
Vocational education and skills are an important part of rebalancing our economy. They not only help with widening participation, but also help to provide a workforce best equipped for the modern world.
There is a longstanding backlog in college building and refitting. We are investing to address this. These colleges will be able to provide good teaching facilities in all parts of the country, helping us to build the skills base across the country.
Skills Minister Matthew Hancock said:
To grow British industry and compete in the global race we need our colleges to produce highly skilled engineers, designers, mechanics and builders.
However nearly a million learners in this country have a substandard experience due to poor estates and facilities.
To produce world class talent we must have the facilities to match so over the next two years we have are investing £550 million in colleges. This will help to build the state of the art workshops and research centres to help young people reach their full potential.
Examples of the 21 successful bids submitted to the Skills Funding Agency, which conducted the assessment and moderation process, include:
a £3.25 million redevelopment of Cornwall College's Falmouth campus, which will enhance their curriculum for marine engineering, marine biology and boatbuilding; the LEP identified marine and renewable energy sectors as important and the college is responding, by providing skills that will contribute to the South West Marine Energy Park
construction of a £5.1 million STEM project and research centre, which will focus on engineering and construction at East Berkshire College
a new centre for engineering, manufacturing and advanced skills technology with industry standard workshops for learners to use at Fareham College worth up to £14 million
a £3.06 million construction and motor vehicle centre at Myerscough College; this will provide opportunities to extend skills in new technologies including hybrid and electric cars
West Nottinghamshire College will create a £5.716 million Engineering Innovation Centre, which will support national infrastructure projects such as HS2 and the Nottingham Tram Phase 2 work; the Centre will deliver a range of engineering and technical skills, including transport technology and advanced manufacturing at all levels
Kim Thorneywork, Chief Executive of the Skills Funding Agency, said:
I am delighted that through this second round of capital funding approvals 21 colleges will receive £78 million to build and modernise their facilities, meaning that thousands of students will get the best possible learning experience.
With a third round of funding planned for the autumn, this really does demonstrate the government's continued commitment to the further education estate. The Agency will continue to work with colleges to make the skills system more rigorous and responsive to the needs of employers, and this ongoing funding will help us do that.
Martin Doel, Association of Colleges' (AoC) Chief Executive, said:
We welcome this announcement, on behalf of the colleges benefiting from this and previous rounds of capital investment. Improved buildings and facilities allow Colleges to better serve students, staff, businesses and the wider community.
Colleges in these rounds have worked hard to leverage finance in support of capital projects, independent of public finance, which means that the projects offer extremely good value for each Treasury pound spent. The guarantee of future public support for College capital projects in the comprehensive spending review is therefore good news for colleges, their students and the businesses that they support.
As the Department for Business, Innovation and Skills (BIS) confirms this investment it can also announce a third round of funding, which will be considered in the autumn of this year.
Changes in the international economy mean the world is in a global race, in which the UK needs to be among the winners. The government's most important task is to build a stronger, more balanced economy capable of delivering lasting growth and widely shared prosperity, which is the aim of the industrial strategy. This investment will help to develop the skills needed for this strategy.
Businesses are already recognising that industrial strategy is beginning to make a difference, and the CBI, TUC and individual companies like GSK, GKN Plc and Expro all recognise that we need an industrial strategy.
Notes to editors
The 21 colleges that have been selected for receiving funding (subject to due diligence) can be found on the Skills Funding Agency website.

CCIF was confirmed in December 2012 through the Autumn Statement, the Skills Funding Statement and the College Capital Investment Strategy. Since the Autumn Statement more than £180 million has been allocated to FE colleges across England.

In December 2012 the government published the new FE Capital Investment Strategy which set out the clear rationale for the creation of a £550 million investment programme targeted at colleges:
800,000 learners in England are currently learning in sub-standard buildings
every £1 million of capital expenditure increases participation by between approximately 62 and 86 learners per year
a £5 million college refurbishment project could typically employ around 60 people and could increase to as much as 600 jobs for a £20 million college relocation
annual maintenance costs for the worst colleges are 34% higher than the best
The CCIF criteria, which are based upon priorities set by ministers, were developed with input from college sector representatives. The approved projects were chosen in a robust assessment and moderation process, conducted by the Skills Funding Agency and supported and endorsed by the AoC.

The government's economic policy objective is to achieve 'strong, sustainable and balanced growth that is more evenly shared across the country and between industries'. It set four ambitions in the 'Plan for Growth', published at Budget 2011:
to create the most competitive tax system in the G20
to make the UK the best place in Europe to start, finance and grow a business
to encourage investment and exports as a route to a more balanced economy
to create a more educated workforce that is the most flexible in Europe
Work is underway across government to achieve these ambitions, including progress on more than 250 measures as part of the Growth Review. Developing an Industrial Strategy gives new impetus to this work by providing businesses, investors and the public with more clarity about the long-term direction in which the government wants the economy to travel.
Published 26 July 2013