News story
Multi million package announced to boost innovation and research in the UK
The strategy, launched by Business Secretary Vince Cable and Minister for Universities and Science David Willetts, sets out the Government&rsquo…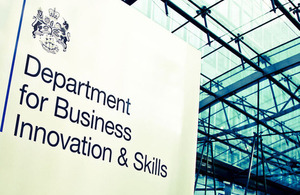 The strategy, launched by Business Secretary Vince Cable and Minister for Universities and Science David Willetts, sets out the Government's plans to boost economic growth through investment in research and innovation across the UK.
Key actions announced today include:
£75 million of new government investment for the Technology Strategy Board to give high tech innovative businesses better access to the facilities and finance they need to develop and commercialise products.

£25 million to help companies develop large scale prototypes that will showcase their ideas to potential investors.

Piloting a new innovation vouchers scheme delivered by the Technology Strategy Board that will give SMEs the opportunity to get free academic support from colleges and universities.

Supporting SMEs by doubling the size of the Designing Demand Programme by £650,000 to £1.3 million a year. This is a mentoring programme run by the Design Council to help SMEs deliver improved products, services and brands to enhance their growth potential.

Working with the National Endowment for Science, Technology and the Arts (NESTA), to establish a Centre of Expertise for running innovation inducement prizes, and a new Innovation Prize Fund, in which we will invest £250,000 a year.
Vince Cable said:
"The UK has renowned universities and research institutes and a proud record of invention - from the creation of life-saving medicines to the development of the internet. This strategy builds on our strengths by setting out how we will work with businesses and research bases to underpin private sector led growth.
"We recognise that by improving the incentives for companies to innovate they will continue to create life changing products to drive future innovation and growth."
David Willetts said:
"The Government has protected the £4.6 billion annual science and research budget, is investing more than £200 million in the new Catapult Centres and has announced £610 million of science capital projects this year.
"Our new innovation and research strategy is the next step in ensuring the UK provides the best possible environment for entrepreneurs and innovators. Alongside the new Smart scheme, fresh initiatives like innovation vouchers for SMEs, more design mentoring and an Innovation Prize Fund will deliver help where it is most needed.
"A new innovation landscape, combined with continued investment and collaboration with business, will ensure the UK is a world leader in innovation."
The _Innovation and Research Strategy for Growth _builds on the Government's existing _Plan for Growth. _It follows the recently published _Life Sciences Strategy _which included £180 million of new investment to support exciting medical breakthroughs, and a further £13 million to the existing £145 million investment in e-infrastructure - to power innovation and growth through the most sophisticated technology.
Note to editors:
The Innovation and Research Strategy for Growth can be found on the BIS website, www.bis.gov.uk.

£75 million of new funding will be invested in existing programmes run by the Technology Strategy Board including; Smart (previously Grant for Research and Development (R&D)), the Small Business Research Initiative (SBRI) and the Launchpad initiative.

Smart awards are a programme for supporting R&D in SMEs that began in 1988. The name was changed in 2005 to Grant for R&D when the programme was run by the Regional Development Agency (RDAs). A new similar Grant for R&D programme now run by the Technology Strategy Board will revert to the original name of Smart, which remains an established brand and popular with businesses.

The Small Business Research Initiative (SBRI) overseen by the Technology Strategy Board provides technology-based SMEs with the opportunity to compete for contracts to develop new products and services that may in the future be procured by government.

The Technology Strategy Board Launchpad competition was piloted in 2011, and sought to support the growth of SMEs in the Tech City cluster. Over 200 proposals were received. 18 received funding with around £100,000 each and were given the opportunity to get matching private sector investment by pitching their ideas to Venture Capitalists, Business Angels and other potential investors.

The Design Council is delivering Designing Demand, a BIS-funded mentoring programme to build greater design capability and understanding among SMEs. The resulting design projects often deliver new or improved products, services, systems and/or brands that improve business growth potential and success.

Working in partnership with business, the Technology Strategy Board and local enterprise partnerships, we will implement a new innovation voucher programme** **to support SMEs in working with external knowledge providers.

In order to develop a successful programme of innovation inducement prizes, we will work with NESTA to establish a Centre of Expertise to run, design and facilitate inducement prizes. NESTA will work with partners including the Technology Strategy Board to develop the Centre. We will also invest £250,000 a year in a National Prize Fund, and an additional £100,000 to support the first prize that the Centre will run.

The Technology Strategy Board is a business-led government body which works to create economic growth by ensuring that the UK is a global leader in innovation. For more information please visit www.innovateuk.org.

BIS's online newsroom contains the latest press notices, speeches, as well as video and images for download. It also features an up to date list of BIS press office contacts. See [http://www.bis.gov.uk/newsroom](http://www.bis.gov.uk/newsroom) for more information.
---
Annexe A
---
Measures that the Government has already taken to boost innovation in the UK include:
Investing over £200 million in the development of an elite network of technology and innovation centres, overseen by the Technology Strategy Board to accelerate the commercialisation of new technologies. The first centre in High Value Manufacturing is already open for business, and further centres will be opening in cell therapy and offshore renewable energy. These will now be known as Catapult centres.

Maintaining the £4.6 billion ring-fenced science and research budget.

Investing £610 million into science capital projects to strengthen the UK's world-class research base.

A commitment to invest £50 million in the commercialisation of graphene, a high-performance material with a wide range of potential applications such as ultrafast transistors and semi conductors which could reduce the size and increase the sophistication of devices such as computers and mobile phones.

Increasing the Small Companies R&D Tax Credit to 200 per cent in 2011, with a further increase to 225 pre cent in April 2012.

Accepting the recommendations made in Professor Hargreaves _Review of Intellectual Property and Growth _to support SMEs, including plans for a small claims process in the Patents County Court and easier access to advice on protecting intellectual property rights.
---
---
Annexe B
---
Case studies - Smart (Previously Grant for R&D)
Grants for R&D were previously known as SMART awards and were formally rolled out in 1988. The name was changed, but we are now reverting to the original and established brand. This programme was run by RDAs, but in April of this year the Technology Strategy Board established a new SMART (Grant for R&D) programme. Successes of Smart include:
Optos, based in Dunfermline, an innovative retinal imaging company with revenues worth over £100 million in 2010. They were able to use Smart money to carry out research and development for their product to detect eye diseases at an early stage.

Becrypt, a London based cyber security and encryption IT firm, which is now a multi-million pound turnover company and one of the largest software encryption houses in the UK. They already run a five year enterprise deal with the Ministry of Defence and work with 200 Government agencies across Europe;
Case studies - Small Business Research Initiative (SBRI)
This programme overseen by the Technology Strategy Board enables departments to address a range of challenges, deliver cost savings, and at the same time generate economic growth through supporting SMEs with the opportunity to develop new products and services that may in the future be procured by Government. While the scheme is still in its infancy in the UK, an early evaluation by NESTA identified successes such as:
Eykona Technologies - This innovative company won a competition launched by the East of England NHS Trust who was looking for innovative technologies to help with the remote management of long term conditions, thereby reducing the need for patients to travel to hospital to meet with specialists. Eykona used a patented 3D imaging medical device which is hand-held and can be used by clinicians to measure chronic wounds such as diabetic ulcers. The SBRI contract that the company won helped to raise £2.4 million funding and as a result Eykona has grown from four to 14 employees, with first sales already made and an expected turnover of £10 million by 2014.

Zeta Controls - This Company won a SBRI development contract for £450,000 to develop an ultra efficient lighting prototype for domestic use. Zeta Controls developed a unique product called 'Life Bulb' which will last more than 25 years and uses 14 per cent less energy than the most advanced energy saving bulb on the market. The product is designed to replace all 60W incandescent light bulbs that were phased out across the EU in September 2012.
Further details and more case studies can be found on the Technology Strategy Board website, http://www.innovateuk.org/deliveringinnovation/smallbusinessresearchinitiative/case-studies.ashx.
Notes to Editors
Contact Information
Name BIS Press Office Job Title
Division COI Phone
Fax
Mobile
Email NDS.BIS@coi.gsi.gov.uk
Name Dan Palmer Job Title
Division Department for Business, Innovation and Skills Phone 020 7215 5303 Fax
Mobile
Published 8 December 2011