Press release
Mulberry factory bags hundreds of jobs for Somerset
The Deputy Prime Minister Nick Clegg officially opened a new Mulberry factory today, which will create hundreds of new jobs in Somerset.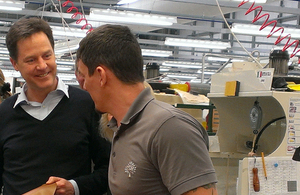 The new luxury handbag factory in Bridgwater, Somerset, has been created thanks to £2.5 million of support from the government's Regional Growth Fund. The investment will be used to help recruit and train new staff. It will double Mulberry's UK capacity and create 300 new jobs for the area. More than half of these jobs will be for disadvantaged workers such as single parents, people who have been long term unemployed or unskilled, and the over-50s. This will build on the region's position as a fashion manufacturing hub.
The Deputy Prime Minister toured the factory to see how the cash from the Regional Growth Fund has boosted jobs and growth across the region. He also met apprentices pursuing a career in STEM (Science, Technology, Engineering and Manufacturing).
A group of Mulberry apprentices showcased their skills at a special reception for female apprentices hosted by the Deputy Prime Minister earlier this month. Mr Clegg met the group again and got a chance to see them in action on the factory floor manufacturing top quality leather goods.
The Deputy Prime Minister, Nick Clegg, said:
This new Mulberry factory is a major boost to the economy of the area, creating hundreds of new jobs thanks to this government's Regional Growth Fund.

Mulberry is an international fashion brand based in Somerset and I am pleased that that the government is able to offer assistance to help them expand. This is the second time I have met apprentices from Mulberry, who always impress me with their drive, enthusiasm and skill.

Companies like Mulberry and the people who work here are helping us to build a stronger economy and a fairer society for this generation and the next.
The factory will be Mulberry's second in Somerset to manufacture the company's luxury handbags. Added to Mulberry's own investment, the total investment in the new factory is approximately £7.5 million.
Mulberry can now produce 50% of their bags in the UK. The company is a great example of a company built on local talent and exceptional skills in design and manufacturing. It is a company with strong roots in the South West that is renowned across the world.
The Deputy Prime Minister also met apprentices at the River Cottage farmhouse kitchen this morning. The River Cottage apprenticeship scheme is expanding to take on an extra 40 apprentices. They are helping young people in the region gain the training and skills they need to develop their potential.
The Regional Growth Fund sees government and the private sector work together to grow the economy in a balanced way across all regions and a range of industries. More than £200 million has been invested in the South West through the fund, creating thousands of new jobs.
Published 21 March 2014