Press release
'Shwopping' scheme wins Big Society Award
Marks & Spencer's scheme reducing amount of clothing in landfill sites is latest Big Society Award winner.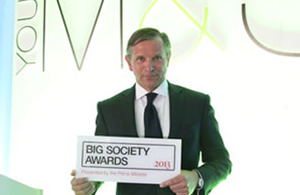 The scheme aims to reduce the volume of clothes that are thrown away to landfill, reducing the environmental impact, whilst supporting Oxfam's many good causes.
Customers can bring unwanted pieces of clothing, and put them in bins known as 'Shwop Drops'. The clothes are then given to Oxfam to re-use, recycle or re-sell.
Since April last year:
4 million items have been Shwopped in over 400 M&S and Oxfam stores
Shwopping has helped Oxfam raise £2.3 million
over 25 companies across the capital have taken in part in the 'Shwop at Work' scheme
M&S' ultimate goal is to recycle as many clothes as it sells every year - 350 million items, helping its 21 million customers live a more sustainable lifestyle.
Commenting on the award Prime Minister David Cameron said:
This scheme shows how a simple and innovative idea can inspire people, making it easy for them to make a contribution to their community and the wider world.

Congratulations to M&S, Oxfam and all those that have contributed to the incredible 11 million items "shwopped" so far.

It's brilliant to see business, charity and people across the country coming together to make a real difference - a great example of the Big Society.
Adam Elman, Head of Plan A Delivery at Marks & Spencer, said:
We're delighted to be recognised by The Prime Minister for Shwopping. At M&S we're passionate about giving used clothes a future. One man's old shirt is another's retro classic and we can even transform tatty clothing into new products, such as mattress or car seat fillings.

There's no excuse for sending textiles to landfill and that's why we're doing everything we can to make it easy for people to recycle with Oxfam. So far we've recycled over 4 million garments this year and have the ultimate aim of recycling one piece of clothing for every one we sell, over 350 million a year.
The Orpington, Kent store was the top Shwopping store last year receiving a surprise visit from Joanna Lumley, worldwide Plan A and Shwopping amabassador. Joanna Lumley also recently went to Senegal with Marks & Spencer and Oxfam to see the sort of projects they support thanks to the money raised through Shwopping.
In October 2012 M&S sold its first ever 'shwopped' ladies coat, a black jacket created from recycled material made from shwopped clothes. The Shwop Coat follows the 'world's most sustainable suit' which was sold in stores earlier in 2012.
Notes to editors
Shwopping tackles one of the environmental impact of the clothing industry: with around one billion items reaching UK landfill a year, it aims to make the recycling of clothes as much of a habit for consumers as glass recycling has become today, thus reducing clothing landfill.
Shwopping and its ancillary projects are part of Marks & Spencer's environmental and ethical programme, Plan A, which aims to make the brand 'the world's most sustainable major retailer by 2015'.
For media enquiries contact:
Big Society Awards
laura@thebigsociety.co.uk
020 778 455 895 / 07860 543 583
Images available on request.
The Big Society Awards
The Big Society Awards were set up by the Prime Minister in November 2010. The aim is to acknowledge individuals and organisations across the UK that demonstrates the Big Society in their work or activities. In so doing, the aim is also to galvanise others to follow.
The award focuses upon three specific areas:
Outstanding contribution to community
People, projects and organisations that enable communities to drive change themselves

Projects and organisations that allow the community to identify solutions

People, projects and organisations that inspire others to contribute to their community
Improving lives and society through innovation, collaboration and new partnerships
People and organisations taking new approaches to public services

Successful collaboration and partnerships between public, private and voluntary sector - working together to benefit communities
Engaging in social action
People, projects and organisations taking action in their community

Working together for social change (e.g. through creating groups, campaigns, movements)

Generosity of time, money, skills and other resources – in support of social action
Launching the awards, the Prime Minister said:
There are some amazing projects and remarkable voluntary work going on in towns and cities up and down the country, by all kinds of organisations from large enterprises to tiny grassroots schemes and inspirational individuals.

These awards are a chance to pay tribute to those making a valuable contribution to their community, the real champions of the Big Society, but perhaps more importantly, I hope they will motivate many others to take action, get involved and drive change in their area.
Nominations come in from the general public after which there follows a process of scoring and short-listing by civil servants and a further short-listing by a panel of ministers and independent external experts. This panel makes recommendations to the Prime Minister who makes the final decisions about who to make the award to.
12 winners are decided each quarter meeting and then announced once a week throughout the year. 67 winners have been announced to date.
Published 22 April 2013
Last updated 29 April 2013
+ show all updates
First sentence of bod copy removed - repeated summary.
First published.