World news story
Mr Moon Ik Kim begins work as the new British Honorary Consul in Busan
Mr Kim's duties commence following formal investiture by the Korean Ministry of Foreign Affairs and Trade on January 28, 2013.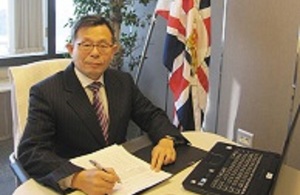 Moon Ik Kim was born and educated in Gyungnam, where he studied Engineering at Busan National University. He joined Hyundai Heavy Industries in 1979 and worked at the Foreign Supply Department before moving to the UK to work at Hyundai's London office for 3 years. After his return from the UK, he founded Michael Trade and Engineering in 1991.
Mr Kim is married to Jungja Hong, and has one son and one daughter.
Mr Kim's office is located at:
Michael Trade & Engineering 1707, Ocean Tower, Haewoondae, Busan, Korea.
For more details of the work of the British Honorary Consulate in Busan, please click here
Mr Kim succeeds Wang Sang-eun CBE as Honorary Consul in Busan.
Published 29 January 2013