World news story
Mr Minoru Makihara honoured by The Queen
In recognition of his outstanding contribution to commercial and cultural relations between the UK and Japan, Tim Hitchens, the British Ambassador to Japan, has presented Mr Makihara with a Honorary Knighthood of the Most Excellent Order of the British Empire at an investiture ceremony held at the British Embassy Tokyo on 29 January.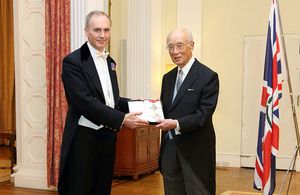 As General Manager of Mitsubishi Corporation's Marine Products Department in Tokyo in the 1980s, Mr Makihara oversaw the decision to purchase Princes, the Merseyside-based canned fish company. This decision, and his subsequent involvement with the company, helped to establish it as a market leader, directly employing over 4,000 people. The company has been a consistent supporter of British agricultural producers and a prominent player in the economy of the city of Liverpool.
Mr Makihara has also demonstrated a tireless personal devotion to encouraging links between Mitsubishi Corporation and the UK, the country of his birth. This has been reflected not just in the company's deep and broad commercial interests but also in its commitment to fostering cultural and educational links. Most notable among these is its investment in the Mitsubishi Corporation Japanese Galleries at the British Museum.
Published 3 February 2014