Press release
Mr Lidington meets Archbishop Gallagher
Mr Lidington met Archbishop Paul Gallagher, the Holy See's Secretary for Relations with States, yesterday (2nd March)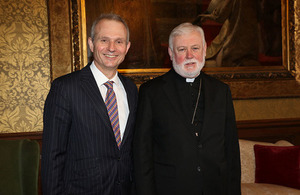 Speaking after the meeting, Minister for Europe Mr Lidington said:
I was delighted to meet Archbishop Gallagher, and to discuss some of the many areas of mutual interest that we share. I explained to him the UK government's position on remaining in a reformed European Union, and the deal that the Prime Minister agreed with his European counterparts in Brussels last month.

We discussed the situation in Ukraine, including Russia's destabilising actions, and the importance of respect for international law. We also discussed international recognition of Kosovo and the progress in the UN-facilitated Cyprus settlement talks.
Note to Editors
Archbishop Gallagher is the Holy See's Foreign Minister equivalent
Further information
Published 3 March 2016