Dr Haruo Naito honoured by The Queen
In the recognition of his long-standing efforts to strengthen UK-Japan relations and services support of valued Japanese investment in the UK, Tim Hitchens, the British Ambassador to Japan, has presented Dr Haruo Naito, CEO of Eisai Co Ltd, with an Honorary Knighthood of the Most Excellent Order of the British Empire at an investiture ceremony held at the British Embassy Tokyo on 30 June.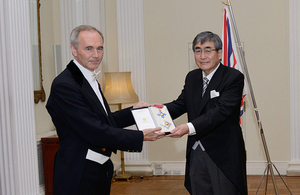 Dr Naito has continued to demonstrate steadfast commitment to the UK and Europe, acting as de facto figurehead for the British Government's campaign to attract investment from the Japanese life sciences industry. The most striking evidence of his championing of the UK is the £100 million investment in 2009 to build the European Knowledge Centre in Hatfield as Eisai's strategic base in Europe. Since then the company has further extended the British base to support its growing European, African and Middle Eastern business, and opened a new solid dose global manufacturing line for the anti-epileptic agent Fycompa® in Hatfield. The company also continues to conduct ground-breaking research and development in the UK, including via its long-standing collaboration with University College London, with whom the company has an alliance to develop therapeutics for neurological disease.
Published 2 July 2014