World news story
Statement by the British High Commission Accra on Mr Allotey Jacobs' arrest
British High Commission Accra's statement in relation to Ghanaian media reports about Mr. Allotey Jacobs' arrest.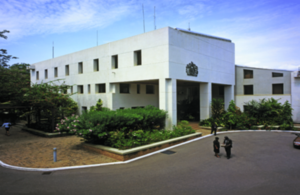 The British High Commission would like definitively to clarify the situation concerning the alleged arrest of Mr Allotey Jacobs at London's Heathrow Airport on Sunday, 29 May.
We became aware around Sunday lunchtime of online and social media rumours to the effect that Mr Jacobs had been arrested on arrival at London Heathrow from Accra, allegedly variously accused of money laundering or of being involved in a 'drugs bust'. Both claims are simply untrue. There was no such arrest. Mr Jacobs was not detained, nor was he questioned. There was absolutely no evidence of money laundering or drugs.
Subsequently, there were persistent further rumours that Mr Jacobs had at least been escorted off the plane by UK law enforcement. After exhaustive, multiple enquiries we state unequivocally that the UK law enforcement authorities with jurisdiction at Heathrow Airport all confirm that they did not board the aeroplane to speak to Mr Jacobs, nor did they do so subsequently within the airport, and they certainly did not escort Mr Jacobs off the flight concerned. Our law enforcement authorities keep meticulous records, including of any "escorting off" aeroplanes – there is no such record in the case of Mr Jacobs, as there was no such event. We understand that Mr Jacobs caught his connecting flight to the US on time and without incident.
British Airways tell us that they, too, have no record of any law enforcement boarding directed at Mr Jacobs. A public claim has been made that Mr Jacobs was 'escorted' from a seat in Row 15 in business class. However, on the flight in question, Row 15 was not in, and indeed some distance from, business class, the class in which Mr Jacobs travelled, so that claim falls away.
Mr Jacob's political affiliation is of no interest to us. Had we been asked to confirm or deny the alleged arrest of anyone else of any other political affiliation, we would have acted in exactly the same way – purely factually. The UK government is and will remain entirely neutral in Ghanaian domestic politics. We do, however, have the full right to respond to claims made about law enforcement issues in the UK itself, particularly when, as in this case, those claims are wholly wrong.
Published 30 May 2016