World news story
Moving beyond history: A European perspective
British Embassy Tokyo hosts dinner to celebrate the launch of the European Council on Foreign Affairs' new project, "How do Asians see their future?"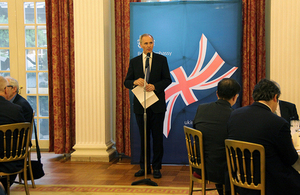 On 23 June, the British Embassy Tokyo hosted a delegation of experts and dignitaries from across Europe and Asia, as part of a week of events to celebrate the launch of a major new series of reports on Asia's future.
How do Asians see their future?
Commentary is published every day on Asia's current key issues, both on the region's prospects and its potential for crises. Perspectives that were previously unthinkable are now coming to be accepted. Asia is a lively testing ground for competing political systems. It has experienced the most successful democratic transitions outside Europe. At the same time, it is home to some of the most successful non-democratic systems in the world.
In this fast-changing environment, the European Council on Foreign Relations (ECFR) held a week of roundtables and dialogues in Tokyo from 22-28 June. The programme was aimed at helping European participants, including academics, journalists, and policymakers, to define policy approaches to Asia based on Asia's own expectations and interests, and will form the basis of a major new series of reports on Asia's future.
Moving beyond history
On 23 June, the British Embassy in Tokyo hosted a dinner for the programme participants and other guests. The theme was "Moving beyond history: A European perspective". The guest of honour, former German Ambassador to China and Japan, Mr Volker Stanzel, was joined by ECFR Director Mr Mark Leonard and British Ambassador Mr Tim Hitchens in leading a discussion on Europe's post-war experience of reconciliation, and how the lessons Europe has learned might be applied in an Asian context.
2014 marks 100 years since the start of the First World War. Within British government, the Department for Culture, Media and Sport is leading plans to build a commemoration fitting of this significant milestone in world history. More information on centenary commemorations being held in the UK and across Europe can be found at: First World War Centenary on GOV.UK
About the European Council on Foreign Relations
The European Council on Foreign Relations (ECFR) is the first pan-European think-tank. Launched in October 2007, its objective is to conduct research and promote informed debate across Europe on the development of coherent and effective European values-based foreign policy. It is independent and has no connection to the institutions of the European Union. In 2008 and 2009 ECFR was named the world's 'Best new think tank in the last 5 years' , and in 2011, 2012, and 2013 ECFR, was consistently ranked in the top 10 of the "Top fifty think tanks worldwide".
Published 1 July 2014