News story
Motorsport publication launches at 'Autosport International'
A new publication, 'Ahead of the curve', highlights how the UK is the world leader in 'race-bred' high performance automotive innovation.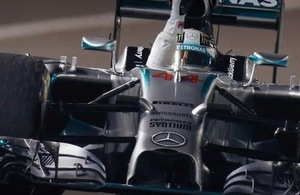 A new publication was launched at last week's Autosport International show, to promote UK motorsport technology and innovation capability globally. The publication was produced in conjunction with the Automotive Investment Organisation (AIO) and the Motorsport Industry Association (MIA) – the principle trade organisation supporting the motorsport industry.
'Ahead of the curve' outlines the evolution of the UK's unique 'Motorsport Valley®' cluster. It highlights the breadth and scale of its world-leadership in motorsport innovation. It also reveals how this 'race-bred' capability is successfully being transferred into automotive, aerospace, defence, marine and beyond.
The publication will be circulated globally, to reinforce the benefit of investing in and doing business with the UK. It outlines Motorsport Valley's® growing relationship with adjacent sectors and its strengthening position as the global centre for high performance engineering innovation.
Contact aio@ukti-invest.com if you have any enquiries about 'Ahead of the curve: How UK motorsport technology and innovation can benefit your company'.
Published 16 January 2015