Press release
More wet weather leads to ongoing flood risk
Communities urged to remain alert as further heavy showers forecast.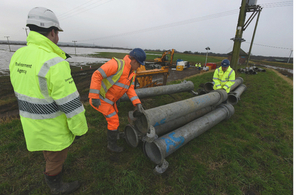 With heavy showers expected across England today (5 January 2016) and later in the week, the Environment Agency is urging communities to remain vigilant as there is a risk of further flooding.
The Met Office has forecast heavy showers across the country today with more expected late on Wednesday and into Thursday.
As showers are set to fall on areas of saturated ground, there is the potential for further flooding today in parts of north-east and south-east England, as well as parts of Gloucestershire and Worcestershire, mainly around the River Severn. This has the potential to disrupt travel in these areas.
Environment Agency teams continue to support communities affected by flooding with teams pumping away flood water, repairing damaged defences, clearing river blockages, monitoring water levels and sending out flood warnings.
As of 13:00pm on 5 January there are 21 flood warnings and 131 flood alerts in place across England. Flood warnings are updated on the Environment Agency website every 15 minutes.
Environment Agency pumps are still being used in parts of Yorkshire and Lancashire to pump away flood water. Demountable flood barriers remain in place on the River Severn at Shrewsbury and Bewdley.
Clare Dinnis, Flood Risk Manager at the Environment Agency, said:
"As we continue to support communities that have been affected by flooding our teams are working around the clock to repair flood defences, protect communities, and pump away flood water.
"Wednesday will see further heavy showers and we are keeping a close watch on the situation and will issue further flood warnings as required."
Communities affected by flooding can find advice by checking flood warnings and river levels, local authorities' websites and on social media using #floodaware.
Published 5 January 2016