News story
More university places to be freed up
It is expected that a further 35,000 students will now join the pool of unrestricted students which universities can recruit from. In total …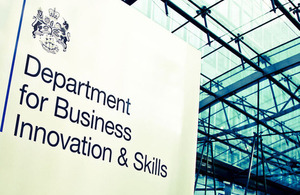 It is expected that a further 35,000 students will now join the pool of unrestricted students which universities can recruit from. In total 120,000 places, one in three, are expected to be freed up.
Business Secretary Vince Cable said:
"These changes will enable more high achieving students to get into their first choice university. At the same time we are also increasing the number of places on courses which offer value for money, backing those universities and colleges which have focused on keeping their costs to students down."
Universities and Science Minister David Willetts said:
"A third of all students will now be free of number controls. This is what our university reforms are all about - putting choice and power in the hands of students. We are rolling back the controls on places at individual universities that have been a barrier to competition. Students will gain as universities attract them by offering a high-quality academic experience."
These changes build on the easing of student number controls introduced for the academic year beginning this autumn which will enable universities to recruit as many of the estimated 85,000 students achieving A-level grades of AAB or greater as they wish. Universities and colleges were also allocated 20,000 places through a competitive core and margin in the coming year.
**Notes to editors:
**1. We estimate that by reducing the grade threshold to ABB in 2013/14 we will increase the uncontrolled population to around 1 in 3 places, or 120,000 entrants.
Those institutions who have secured places through the core and margin in 2012/13 will have them added to their core student numbers in 2013/14. In total, 45,000 places will be allocated through the margin in 2013/14.

The Higher Education Funding Council for England will allocate an additional 5,000 places from universities and colleges through a competitive core and margin exercise. The majority of these places will be allocated to institutions charging an average of £7,500 or lower, with the remainder being allocated to those charging between £7,500 and £8,250 meaning that in total 45,000 high quality value-for-money places will be available in 2013/14.

BIS's online newsroom contains the latest press notices, speeches, as well as video and images for download. It also features an up to date list of BIS press office contacts. See http://www.bis.gov.uk/newsroom for more information.
Notes to Editors
Contact Information
Name BIS Press Office Job Title
Division Department for Business, Innovation & Skills Phone
Fax
Mobile
Email bispress.releases@bis.gsi.gov.uk
Name Michael Gibbs Job Title
Division Department for Business, Innovation and Skills Phone 020 7215 1635 Fax
Mobile
Published 27 April 2012