More transparent criminal justice statistics
Criminal justice statistics are set to become more transparent and user-friendly under changes introduced by the Ministry of Justice.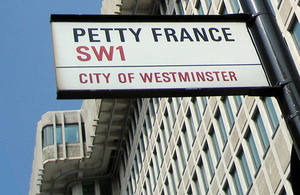 Responding to a full consultation on improving the department's statistics, the Ministry of Justice has confirmed the following changes:
The introduction of a quarterly criminal justice statistics bulletin. This will give an overview of trends in crime, out-of-court disposals, prosecutions, convictions and sentencing.
A new single measure of reoffending. This would get rid of the six different ways reoffending is measured. This includes consolidating five separate publications on reoffending into a single publication.
More consistent statistical definitions across MoJ publications and clarification of certain important measurements.
Introducing the changes, MoJ Chief Statistician Iain Bell said:
'These changes will lead to a more coherent and accurate statistical picture of criminal justice for all users. Timely and comprehensive statistics are invaluable for policymakers, the media, academics and any interested members of the public. We are particularly pleased that a more consistent measure of reoffending will now be available.'
National Statistician Jil Matheson said:
'I am pleased that so many users took the time to provide their views to the statistics consultation by the Ministry of Justice. This response sets forward a programme of work which will significantly improve the transparency of criminal justice statistics and I look forward to seeing these improvements take effect over the coming year.'
Notes to editors
Full response to consultation on improvements to Ministry of Justice statistics
In order to simplify definitions of reoffending, we have pledged to: * Produce quarterly reoffending rates by individual prison; * Introduce a more consistent reoffending measure based on following offenders from the end of both prison and community sentences. We will supplement this with reoffending rates for those who have been released on parole from indeterminate or life sentences.
The timetable for our new criminal justice statistical output is as below:
  
10 May 2011: Compendium of Reoffending Statistics and Analysis - A series of articles comparing the relative effectiveness of different sentences at reducing reoffending  
26 May 2011: Criminal Justice System Statistics Quarterly - Criminal justice statistics for the 12 months ending December 2010  
27 October 2011: Reoffending Statistics quarterly publications. This will include: * Reoffending for adults and juveniles for the cohort ending 31st December 2009; * Back series for calendar years 2000, 2002-2008; * Prison level reoffending rates for 2008 and 2009; * Local Authority and Probation level rates for adults and youth on a quarterly basis from 2005. May 2012: Compendium of Reoffending Statistics and Analysis - This will include:

Reoffending rates for two and five year follow up periods for headline rates of reoffending;

The reoffending measure with Penalty Notices for Disorder included for 2009;
Analysis of reoffending rates based on reoffending from the end of the sentence.
Published 17 March 2011