More than 80 bids for new rehabilitation contracts
More than 80 bids to win regional rehabilitation contracts and lead the new era in a fight against reoffending are currently being evaluated by the government.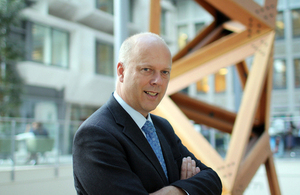 There is strong competition in all regions with an average of 4 bidders for each area. More than half of the bidders include a charity, mutual or social enterprise.
Mutuals have an opportunity to play a major role in the reforms, with eight potential staff organisations competing for a share of the contracts.
Charities experienced in tackling a range of issues affecting offenders, small and large British businesses and experienced multinationals have partnered together to bid for the work that will help turn offenders' lives around. All bidders have experience working in the criminal justice system or with offenders.
The competition winners will lead the 21 new Community Rehabilitation Companies (CRCs) that have been tasked with tackling stubbornly high reoffending rates in England and Wales. They will provide an unprecedented level of support to prisoners released from short sentences that currently get no statutory supervision and return to crime at an alarming rate on release.
Justice Secretary Chris Grayling said:
This competition represents a real opportunity for us to introduce new ways of rehabilitating offenders, where charities with proven track records in housing ex-prisoners could be working in hand in hand with drug treatment providers and companies with expertise in getting offenders into work or training.

It's really encouraging to see such a range of organisations coming together to bid for this work because only by taking a truly fresh approach will we be able to make a real dent in reoffending.

The status quo just isn't working, as more than half of those who leave prison after short sentences are going back to crime within months.
The competition is on track and we expect to award contracts by the end of 2014. A limit has been put in place that will prevent any organisation from winning more than 25% of the total value of the competition, to ensure a diverse range of providers that will encourage quality and innovation.
In addition almost 1,000 organisations, including 700 listed as VCSE (voluntary, community or social enterprise) have put themselves forward to work with the chosen providers to develop new ways of reducing reoffending and protecting the public.
As part of its commitment to creating a level playing field for all providers, the Ministry of Justice has developed an Industry Standard Partnering Agreement (ISPA).
The ISPA represents a new approach to subcontracting and sets a standard that will promote fairness. The chosen providers will be required to use this agreement when entering into contracts with material subcontractors and registered suppliers.
Notes to editors
For more information visit www.justice.gov.uk/transforming-rehabilitation or contact the Ministry of Justice press office on 020 3334 3536.
Published 3 September 2014