News story
More than £450m investment for regional jobs and growth
The first round of the Regional Growth Fund (RGF) will see an expanded amount of public investment support 50 bids by companies and partnerships…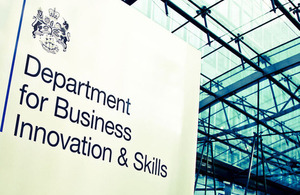 The first round of the Regional Growth Fund (RGF) will see an expanded amount of public investment support 50 bids by companies and partnerships who demonstrated how they would create jobs and a high level of private sector-led sustainable economic growth in their local communities over the coming years.
The Government expects over 27,000 jobs to be directly created and safeguarded, with close to a further 100,000 jobs in associated supply chains and local economies.
The second round of the fund opens to bids today (Tuesday April 12). This round will aim to allocate the remainder of the fund (nearly £1bn).
The £450m being invested by the Government through the first round of the RGF is expected to leverage more than £2.5bn of private sector investment.
The RGF is a £1.4bn fund which is designed to encourage enterprise, growth and jobs in the private sector and support areas and communities that are dependent on the public sector.
Deputy Prime Minister Nick Clegg said:
"I am delighted to announce the first successful bids for the Regional Growth Fund. I was bowled over by the quality of the bids. This money will now help create and safeguard jobs in some of the communities worst hit by the economic downturn.
"Today is a step towards rebalancing our economy away from an unhealthy overreliance on a small number of industries and a few areas. We need to spread opportunity across the whole country, drawing on our many talents. I know that with the right support these businesses can work with their communities and together play their part in leading the country back into prosperity."
Business Secretary Vince Cable said:
"Supporting job creation in the regions is vital if we are to drive growth in our local communities.
"We have received a large number of ambitious and highly competitive bids to this first round of the Regional Growth Fund, which will help a number of businesses across the country to expand and create thousands of new jobs.
"The Regional Growth Fund is a competitive fund and we wanted to see proposals that created jobs in the private sector, in areas of deprivation and that is at risk of suffering from public sector cuts. I'm confident that the successful bids we have chosen will deliver on this."
Lord Heseltine, chair of the Independent Advisory Panel, said:
"I believe the £450m of Regional Growth Fund announced today, which levers in around £2.5bn of private sector investment, supports projects delivering real jobs to real people on the ground now. They show government is getting actively behind the private sector to rebalance our economy.
"I have always believed in the need to give real support to small businesses for whom bidding for £1m is way beyond what they could normally expect. That's why we are providing more than £150m to give targeted support to small businesses which are the lifeblood of our economy.
"That is why I am also pleased that a number of high street banks are joining the Government in supporting microfinance through the Community Development Finance Associations. £30m of Regional Growth Fund will be matched by a further £30m from two banks. In addition we are in detailed discussion with the high street banks over options for schemes to get additional finance to small businesses in economically vulnerable parts of England. We want to develop effective mechanisms to support growing small businesses and small projects through the Regional Growth Fund."
Conditional allocations have been made to successful bidders and will now be subject to a due diligence process, which will establish whether the Government is confident that the organisations can deliver on the proposals in their bid and be agreed through contract.
The following are examples of projects that have been given conditional allocations of funding:
the Haribo factory going ahead with planned expansion of its site near Wakefield, safeguarding the existing factory;
the development of a former eye hospital in Manchester into a biomedical centre of excellence, which will receive match funding through the European Regional Development Fund as well;
General Motors in Luton announced recently that the next generation Vivaro van will be built at its plant in Luton, safeguarding around 1,500 jobs, helped by a conditional RGF allocation;
construction of a manufacturing plant on the Lotte Chemical site in Teesside to develop resins for food and drink packaging;
opening the Gateway to the Sheffield City Region - construction of a link road to facilitate wider housing, industrial and commercial development south of Doncaster; and
development of a new factory, R&D laboratory and HQ office facility for Holroyd Precision Ltd in Rochdale.
After considering the large number of high quality bids submitted to round one, ministers decided to allocate more than £450m in this round rather than the £250m originally foreseen, to ensure the benefits to the economy are realised as quickly as possible.
A more detailed breakdown of the total bids received to the first round of the fund is available on the Department for Business, Innovation & Skills website. Also available on the website is a regional breakdown of where the bids came from and their total value.
To promote the second round of the fund and encourage quality bids that meet the objectives and criteria, there will be a series of road shows across England to speak with businesses and organisations with an interest in submitting a bid to advise them on all aspects of the fund. A schedule of the road shows will be available in due course at
www.bis.gov.uk/rgf
Bids to the fund are especially being encouraged from sectors that have not yet submitted bids. The closing date for round two is noon on July 1 2011. There may be a further smaller round if unallocated funds remain after rounds one and two.
**Full list of winners - allocations are conditional and subject to the outcome of the due diligence process. **
East Midlands and South East Midlands: 1730 direct jobs, 3140 indirect jobs.
---
General Motors UK Limited
Molecular Profiles Ltd.
Thales Properties Ltd
North East: 5216 direct jobs, 8367 indirect jobs.
---
A V Dawson Limited
Bridon International Limited
Chirton Engineering Ltd
Cleveland Potash Limited (CPL)
Connor Solutions Ltd
Cumbrian Holdings Ltd
DUCO Ltd
Durham County Cricket Club Holdings Ltd.
Lotte Chemical UK Limited
Nifco UK Ltd
Nissan Motor Manufacturing (UK) Limited
Proctor & Gamble Technical Centres Limited
SSI UK Ltd
Turbo Power Systems Limited
---
---
North West: 5533 direct jobs, 2279 indirect jobs.
---
Ames Goldsmith UK Ltd
Bentley Motors Ltd
Bruntwood Limited / Manchester City Council
Holroyd Precision Ltd and sister companies
Liverpool Echo
Muse Developments
Pilkington UK Limited
The Stobart Group and ProLogis (with Halton Borough as the administrator)
Tygavac Ltd
---
South East & East of England: 427 direct jobs, 361 indirect jobs.
---
e2v technologies (uk) Ltd.
---
South West: 787 direct jobs, 535 indirect jobs
---
EADS UK Ltd
Messier-Dowty Ltd
South Devon College
West Daily Press and the University of Plymouth
---
West Midlands: 6193 direct jobs, 34,669 indirect jobs.
---
Alstom Grid UK
Birmingham Chamber of Commerce (on behalf of Birmingham City Council)
Bosch Thermotechnology Ltd
Jaguar Land Rover
Prince's Regeneration Trust
---
Yorkshire & Humber: 7628 direct jobs, 2716 indirect jobs.
---
Carbon Trust
David Brown Gear Systems Ltd.
Deafinitions Limited
Doncaster Borough Council
Dunhills (Pontefract) Plc
Keepmoat Homes Ltd
Wakefield Council
Other bids - national
35 direct jobs, 44,587 indirect jobs.
---
Capital for Enterprise Limited (CfEL)
Community Development Finance Association
Notes to editors
The full list of successful bidders is available on the BIS website, along with a map showing the spread of successful bids across England.

The process of due diligence will involve all the successful bidders.

This process will test a number of things, in particular the market and financial assumptions and risks set out in the applications.

Details of unsuccessful bidders will not be released. The Department respects the commercial confidentiality of the bids received that were unsuccessful in Round 1. Some of these bidders may wish to come back with stronger bids in Round 2.

The second round of the fund is open from April 12. Further details on applying and the criteria will be published on the BIS website www.bis.gov.uk/rgf

Details of how to bid along with specific guidance has been published on the BIS web site.

Funding allocated to any bids that do not successfully pass the due diligence process will be made available in a further round of the Regional Growth Fund.
8 The statistics on the total number of bids received to the first round of the Regional Growth Fund are available to view here: http://www.bis.gov.uk/policies/economic-development/regional-growth-fund/summary
Data for specific areas of the country includes projects that might cover more than one area by proportion.

The data in the table for the local enterprise partnership area does not indicate the number of bids endorsed by a partnership, simply the partnership area they fall in.

Two maps will be available on the BIS website. The first shows indicative locations of projects and the second shows the estimated employment impacts of the projects. If you cannot access these please contact BIS press office.

The membership of the Independent Advisory Panel for the Regional Growth Fund is as follows:
Lord Heseltine, Chair
Sir Ian Wrigglesworth, Deputy Chair
Felicity Goodey (Businesswoman, former senior BBC journalist)
Tony Greenham (Programme Head, New Economics Foundation)
Richard Lambert (former Director General, CBI)
Jon Moulton (Chairman, Better Capital equity group)
Caroline Plumb (Entrepreneur, Freshminds)
Sir David Rowlands (Chair of Gatwick Airport Ltd and Angel Trains Group Ltd)
Mark Seligman (Chartered Accountant and Banker, Credit Suisse)
Andrew Shilston (Finance Director, Rolls Royce)
Lord John Shipley (Former Leader Newcastle City Council)
Tony Venables (Academic Economist, Oxford University
Bids approved by the panel of ministers will undergo a due diligence process to ensure they meet all necessary criteria before successful bidders can draw down funding.

For more information on the Regional Growth Fund please visit: http://www.bis.gov.uk/policies/regional-economic-development/regional-growth-fund

BIS's online newsroom contains the latest press notices, speeches, as well as videos and images for download. It also features an up to date list of BIS press office contacts. See [http://www.bis.gov.uk/newsroom](http://www.bis.gov.uk/newsroom) for more information.
Notes to Editors
Contact Information
Name BIS Press Office Job Title
Division COI Phone
Fax
Mobile
Email NDS.BIS@coi.gsi.gov.uk
Name Joanna Fletcher Job Title
Division Department for Business, Innovation and Skills Phone 020 7215 5951 Fax
Mobile
Published 12 April 2011