More support for veterans in the criminal justice system
Ex-servicemen and women entering the criminal justice system will be better supported and given a stronger chance of rehabilitation.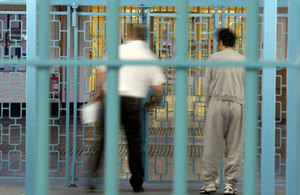 The Justice Secretary Chris Grayling has announced a package of measures to identify and support veterans when entering and leaving prison. This follows the publication of a review into veterans in the criminal justice system by Stephen Phillips QC MP as part of this government's Armed Forces Covenant. Early interventions, better coordination of veteran-specific programmes, and tailored through-the-gate support for offenders leaving prison will be at the forefront of tackling offending by this group.
From January 2015, every prisoner coming into custody will be asked if they have been a member of the armed forces, and prisons will be given new guidance about helping them during their sentence.
Justice Secretary Chris Grayling said:
Most ex-service personnel have successful civilian lives and do not enter the criminal justice system - but I am determined to help the minority who have committed an offence turn their lives around.

Society owes a huge debt of gratitude to those who have served their country, which is why our commitment to support them and their families is enshrined in the Armed Forces Covenant.

We will identify veterans at the earliest opportunity, so that we can take a more tailored approach to help them turn away from crime. This support will extend to offenders' families, who also feel the sacrifices made by our service men and women.
The government commissioned the review published today, 'Former members of the armed forces and the criminal justice system'. Although the report finds that veterans are less likely to enter the criminal justice system than their civilian counterparts, it also highlights that more needs to be done to capture a picture of how many veterans are being sentenced and entering prison.
Stephen Phillips QC MP said:
We were reassured to find that if you have served in the armed forces, you are actually less likely to find yourself on the wrong side of the law.

But we cannot lose sight of the needs of the minority of veterans who do end up in the criminal justice system.

That's why it is vital for them, their families, and our communities that more is done to look at who they are and how we can best support them.
Professor Neil Greenberg, the Royal College of Psychiatrists Lead on Military and Veterans Health said:
The recently published review into veterans in the criminal justice system is a most welcome document which appears to have resulted from appropriate consultation and has consequentially reached logical and evidence based conclusions. The recommendations of the report, if implemented as presented, should lead to the small proportion of veterans who come into contact with the criminal justice system being helped to access a wide range of supportive services which should improve their life trajectories with consequential benefits for them, their families and for the rest of society. In particular, by addressing their welfare and mental health needs effectively, it seems likely that their risk of reoffending will be much reduced.
Too often, offenders are not being identified as veterans – information which could help those who work with them focus more closely on their rehabilitation needs.
Alongside a commitment to identify veteran offenders in prison, the government's 'Liaison and diversion' programme has also been working since April to identify veterans in police custody and courts. Where appropriate, they can then be referred to armed forces specific services – with excellent support available from over 2000 voluntary sector service charities.
Offenders will also benefit from the 'Transforming rehabilitation' reforms made under this government, which will ensure, for the first time in recent history, that virtually every offender released from custody will receive statutory supervision and rehabilitation in the community.
Notes to editors
The review was announced in Parliament in January 2014. The aim of the review was to identify properly the reasons for ex-service personnel ending up in the justice system, to look at the support provided to them and how that support can be improved.

A copy of the review can be found at Former Members of the Armed Forces and the Criminal Justice System

The Office for National Statistics (ONS) estimated that in 2007 there were approximately 3.8 million ex-service personnel in England, equating to 9.1% of the population at that time.

The estimates of the numbers of veterans in prisons and within the probation caseload vary. However the official estimate from 2009 suggest that former forces staff comprise around 3.5 per cent of the prison population (2,820) and around the same percentage of offenders on licence (5,860). This is less than the adult population as a whole, of whom around 10% are veterans.

For further information, contact the Ministry of Justice press office on 020 3334 3536.
Published 21 December 2014