More rights for children and vulnerable adults in court
New laws to help make it easier for children and vulnerable victims and witnesses to give evidence in court come into force today.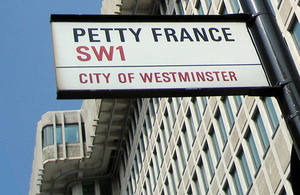 The changes include:
Making all under 18 year-olds, and witnesses in gun and knife crime cases automatically eligible for Special Measures. These include, giving evidence by live-link or from behind screens and the assistance of an intermediary to help them give their best evidence in court.
Giving child witnesses (under 18s) more choice about the way they give their evidence, allowing them to opt-out of giving video-recorded evidence and instead give evidence in court.
Giving victims of rape and serious sexual offences the opportunity to give evidence via video-recorded statements automatically - something currently limited to child witnesses. Ensuring children and vulnerable and intimidated adults can have a supporter in the room when they are giving video-link evidence.
Justice Minister for Victims, Crispin Blunt said:
'We are working to ensure that everything is done to support children and vulnerable victims and witnesses in court.
'While it is right that they only give evidence when absolutely necessary in the interests of justice, it is sometimes unavoidable. The criminal justice process can be intimidating and these new measures will help make this often difficult experience a little easier.'
Notes to editors
Amendments Youth Justice and Criminal Evidence Act 1999 came into force in England and Wales on 27 June 2011. This provides a range of Special Measures which the court can direct in order to assist vulnerable and intimidated witnesses to give their best evidence in court.
The Special Measures currently available to both eligible vulnerable and intimidated witnesses include: * Screening the witness from the accused. * Giving evidence by live-link or in private where the court considers that the witness may be intimidated. * Video-recorded evidence-in-chief.  * Ordering the removal of wigs and gowns. * Intermediaries to enhance witness communication.
Published 27 June 2011