News story
More opportunities for Small and Medium Enterprise suppliers
An Innovation Expo was held by HMRC for Small and Medium Enterprises (SMEs) with the aim of creating business opportunities for SME suppliers.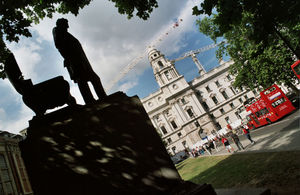 The event brought together SME representatives and decision makers from HMRC, as well as from other government departments including the Cabinet Office and the Department for Work and Pensions.
Keynote speakers included Stephen Kelly, Government Chief Operating Officer, and HMRC Chief Information Officer Mark Hall. Discussions focused on what HMRC and other departments can do to make it easier for SMEs to do business with them.
The afternoon Expo was an opportunity for 12 SME suppliers to showcase their ideas around four key themes of data, digital, mobility and capability.
Mark Hall said:
HMRC is on a journey to change how we source our IT and we're looking to SMEs for the innovation they can bring.

The conversations and networking today were a great opportunity to understand and explore some of the barriers that SME businesses face around getting government business, and how we can work together to break them down.

HMRC is serious about opening our doors to SME suppliers and we've got the commercial frameworks in place to be able to make it happen.
As a signal of HMRC's commitment to working with SME's HMRC announced it will:
engage further with all 12 of the SME suppliers about their ideas, with the aim of taking at least 1 into a pilot
form an advisory group to help HMRC work better with SME suppliers.
The event was positively received, with one SME supplier tweeting "Feeling genuinely confident that UK Government is serious about engaging more with SMEs".
If you'd like to know more about HMRC's work with SMEs please contact us at innovation@hmrc.gsi.gov.uk
Published 9 May 2013