News story
More information on the benefits of a United Kingdom
UK Government publishes first in a series of Scottish referendum factsheets.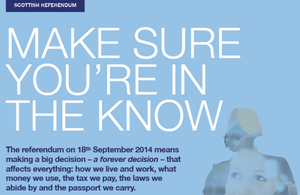 The UK Government has produced the first in a series of new information packs highlighting the benefits of Scotland remaining in the UK. The aim is to provide voters with clear and accurate information to help them make an informed decision ahead of the Scottish independence referendum in September 2014.
The material comes in a factsheet-style format and complements the more detailed Scotland Analysis series, which contains in-depth analysis of the benefits of a United Kingdom.
This latest communication follows the publication by Scottish Secretary Alistair Carmichael of the top twenty benefits of the UK identified from the Scotland Analysis papers which have been published so far.
Mr Carmichael said the new factsheet material was responding to a demand from the public who want to be better informed ahead of the referendum. The content is based on findings from the Scotland Analysis work and is designed to provide referendum information which is clear, concise and factually accurate.
Key benefits of a United Kingdom highlighted include:
Higher public spending per head in Scotland
The lack of barriers for Scottish companies doing business in the rest of the UK
The international influence of the UK which is used to protect Scotland's interests
The strengths of devolution
Mr Carmichael said:
The Scotland Analysis series provides a wealth of information on the benefits of the UK for Scotland. Experts and academics have found it extremely useful.

People in Scotland do want to know the facts before they cast their vote in the referendum. The truth however is that most people want to have that information in a manner that is clear and to the point. That is why we are producing a series of information packs summarising the benefits of the UK in a shorter and sharper fashion. People are telling us that they want straightforward facts in a straightforward manner and that is what we are going to provide them with.

We will continue to look for ways of helping to inform people ahead of the most important decision Scotland will ever make.
The information packs will be made available online and distributed to a range of groups and organisations in Scotland alongside further information on the referendum.
In the course of 2014 the UK Government will continue to produce more Scotland Analysis papers whilst also looking to use all available channels to inform the people of Scotland on the referendum.
Published 20 January 2014