World news story
More Indian students and workers visiting UK
Indian student numbers have strongly increased for the second year in a row, according to the latest quarterly report on Immigration Statistics published by the Home Office.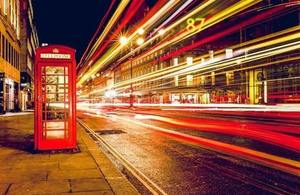 18,735 Indian nationals were granted a Tier 4 student visa in the year ending September 2018. This was a 33% increase on the previous year – which was in itself a 27% increase on the year before that.
In addition, Indian workers continue to receive more skilled work visas than the rest of the world combined, responsible for 55% of all skilled work visas granted globally. Just over 55,000 were granted to Indian nationals – an increase of almost 2,300 on the previous year.
Indian visitors and tourist numbers also saw strong growth. Visit visas increased by 10% to 468,923. This was the largest absolute increase for any country and means that over one in five UK visit visas are going to Indian nationals.
The British High Commissioner to India, Sir Dominic Asquith KCMG said:
This update provides yet more evidence that the UK is open to Indian business, students and tourists.

I'm particularly pleased by the 33% increase in Indian students, which means thousands more young Indians are making the most of the UK's world-class education system.

India continues to receive more skilled work visas than the rest of the world combined. That is an astounding figure - one that underlines the strength of our trade and investment relationship. These statistics clearly show that living bridge between the UK and India is only getting stronger.
Further information
All statistics relate to the year from October 2017 to September 2018, and are compared with the year from October 2016 to September 2017.
Migration statistics are updated quarterly to provide an accurate picture of UK visa trends. Each cover a 12 month period in the following format:
Q1 – April 2017 – March 2018
Q2 – July 2017 – June 2018
Q3 – October 2017 – September 2018
Q4 – January 2018 – December 2018
The Q3 update covers the academic year. Therefore, student numbers are likely to show the most important change as undergraduate and postgraduate students apply for Tier 4 visas in July, August and September for the start of the academic year.
In addition, this quarterly update covers the first full quarter after doctors and nurses were removed from the Tier 2 immigration cap. This has created hundreds of new spaces every month for other skilled workers.
Media
Sally Hedley, Head of Communications
Press and Communications, British High Commission,
Chanakyapuri, New Delhi 110021
Tel: 24192100; Fax: 24192400,

Mailto: Harry Booty
Follow us on Twitter, Facebook, Flickr, Eventbrite, Blogs, Youtube, Instagram
Published 30 November 2018