Press release
More help for families of missing people
Families of missing people will be given extra help when a loved one goes missing, under proposals announced by Lord Faulks QC today.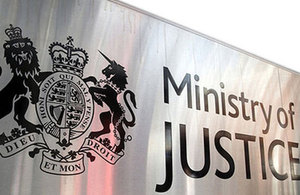 The government's proposals, which fill a gap in the law, would create a new power for relatives of missing people. This would allow families to take care of legal and financial affairs following a disappearance – for example being able to suspend direct debits for mobile phone and utility bills or to make mortgage payments.
It follows the introduction of certificates of presumed death which can be applied for by relatives from 1 October 2014. These will be equivalent to death certificates and will enable families to resolve a loved one's affairs when he or she is thought have died.
Justice Minister Lord Faulks QC said:
The sudden disappearance of a loved one, perhaps without any obvious explanation is a traumatic event for even the most resilient.

The emotional and personal problems caused by absences of several months or even years are all too obvious, but they can be compounded by the practical consequences of the disappearance.

We are considering the creation of a status of guardian of the property and affairs of a missing person to help enable these problems to be solved.
The Ministry of Justice consultation, launched today, seeks views on whether a system should be created under which a person can be appointed to deal with the property and affairs of a missing person; and, if so, how and on what terms.
Susannah Drury, Director of Policy and Advocacy for Missing People, said:
Imagine someone you love going missing. Then imagine watching the life that you hope they will return to fall apart. Missing People regularly hears from distressed families who are unable to step in and look after their missing relative's property and finances whilst they are missing. In the worst cases, finances are destroyed beyond repair and homes can be lost.

This is why Missing People has been campaigning for guardianship to enable families to protect a missing loved one's life in their absence and we are delighted that the government has launched a consultation on introducing it. We hope that the outcome of this will be positive so that missing people and their families will finally have access to the legal support they need.
The proposals set out in the consultation include:
that the appointment will be made by the court on application by an interested person after an absence of at least 90 days
the appointment will confer authority on the guardian to act for the missing person in relation to his or her property and affairs, subject to any limits imposed by the court
the guardian will have to act in the best interests of the missing person
the appointment will be for a period of up to 4 years with the possibility of extension for a further 4
the guardian will be required to account for his or her actions to a supervisory body
Notes to editors
'Missing Children and Adults: A Cross Government Strategy' was published in December 2011. It committed the government to ensuring there are appropriate systems in place for families to deal with the legal and financial problems faced by those left behind following a disappearance; this consultation forms part of this work.

Data on the number of people who go missing in England and Wales together with indications from other jurisdictions on the use of their legislation, suggest that if similar provisions were created in England and Wales there would be between 50 and 300 appointments annually.

View the consultation paper: Guardianship of the Property and Affairs of Missing Persons. The government will decide whether to create a status of guardian of the property and affairs of missing persons once it has considered the responses to the consultation.

The consultation will last for 12 weeks and will close on 18 November.

The Presumption of Death Act 2013 will take effect on 1 October 2014.

The charity Missing People supports missing persons and their families to explore their options and, where possible, to reconnect. For those left behind they provide specialised support to ease the heartache and confusion, and help search for their missing loved ones.
Published 27 August 2014