World news story
More English teachers to be recruited in Malaysia
UK and Malaysia companies agree to address shortage of English teachers in Malaysia.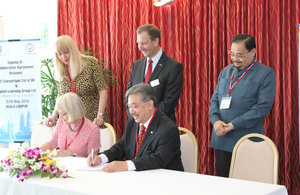 UK educational recruitment specialist, STC Consortium Limited, today announced the signing of a landmark collaboration agreement with Malaysia's Melewar Group which will see the recruitment of hundreds of English teachers in Malaysia and the region.
Under the pact signed with English Learning Group Ltd (ELG), a Melewar Group company, native-speaking English teachers will teach in education establishments in 14 countries including Southeast Asia, Bangladesh, Bhutan, China, India, Nepal, Pakistan and Sri Lanka. Almost half the world's population reside in this region.
His Excellency Simon Featherstone, British High Commissioner to Malaysia, welcomed the signing of the exclusive agreement between Melewar Group Berhad's Group Executive Chairman, Tunku Dato Seri Iskandar Tunku Abdullah and STC Consortium Limited Chief Executive Officer, Susan Moore at the British High Commissioner's Residence today.
HE Simon Featherstone said:
I warmly welcome this agreement between English Learning Group Ltd, part of the Melewar Group, and the UK's STC Consortium. This is another great example of collaboration in the education sector between the UK and Malaysia to improve the proficiency of English in Malaysia and around the region. English has long been established as the universal language of commerce, education, science and even diplomacy. I wish STC and the English Learning Group every success.
The agreement is expected to address the shortage of professional English teachers in the region and arrest the decline of the English language. It is also expected to benefit a great number of students around the region.
Susan Moore commented:
During my visit to Kuala Lumpur in March 2013 and with the help of the UKTI and the British High Commission, I experienced first-hand the tremendous effort and commitment being put into education in Malaysia and indeed the whole of the region and how the government of Malaysia has placed such great importance on the teaching of English within the education system. We feel honoured to be part of it.
We see this significant new partnership with Melewar Group and the English Learning Group as being instrumental in helping transform teaching in the region. As the 21st Century progresses at lightning speed, we understand the need for countries to keep pace in an increasingly competitive global economy where English is the dominant language.
STC will source, screen and select the best possible teachers to help achieve success in both written and spoken English. This, in turn, offers many opportunities for teachers of all ages and skills, and across all disciplines, from the UK and other English-speaking countries, to broaden their horizons and experience living and working in a beautiful part of the world for a year or two.
Tunku Dato Seri Iskandar Tunku Abdullah said:
Whether we are in Malaysia, India, China or elsewhere, undoubtedly our indigenous and national languages are primarily used within our countries. However, there is a strong need for emphasis to be placed on the use of the English language. We must give serious attention to equipping our people with a high proficiency in English, as it is equally without doubt, the international language of the world.
One of the ways that the English Learning Group has been doing this is through bringing in the Direct English programme to many countries in Asia. With its integrated mix of a unique syllabus, online learning and face-to-face sessions, Direct English has set a new standard and has become well-recognised as the ideal way to learn to use the English language assertively and with increased fluency.
We are therefore pleased to enter into this new partnership with STC Consortium as together, we will be able to accelerate and enhance this process by bringing in experienced native English-speaking teachers to the forefront and facilitate the acquiring of proficiency in English.
Further information
The Melewar Group is a Bumiputera family-owned business conglomerate founded in 1963, with diverse interests in education and training, financial services, steel manufacturing, engineering, real estate development and travel and tourism. Headquartered in Malaysia, they have interests across Asia, as well as in Europe through a network of affiliates and related companies.
Published 27 May 2013