Press release
More driving test candidates to benefit from better local services
Driving test candidates are set to benefit from a more convenient service as a trial exploring a new approach to test delivery is extended.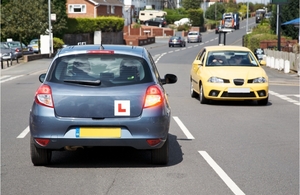 As well as using conventional driving test centres, the Driving Standards Agency (DSA) has been looking at whether practical driving tests can be delivered from other venues such as local authority buildings, hotels or leisure centres.
This new approach is currently being trialed at 8 locations, and following positive feedback from candidates and instructors, DSA now plans to extend the scheme to 5 more areas across the country.
Road Safety Minister Mike Penning said:
We have to be more flexible and innovative in delivering driving tests to make sure that we are offering people the best service possible wherever they live and I am delighted that these first trials have proved successful.

We are now extending the trial so that more candidates will be able to benefit from a service that is convenient as well as being cost effective.
DSA plans to further develop this model and extend the scheme across areas in and surrounding: Watford, Manchester, Kettering, Glasgow and Worcester. In each area, DSA will look to identify a number of locations where there is sufficient demand for local test provision.
Tests could be provided from local authority buildings, or from local businesses such as hotels or retail outlets.
As part of the longer term planning for driving test delivery, DSA is looking for opportunities to work in partnership with the private sector across the country.
Tests will still be conducted by DSA examiners, but the agency is inviting businesses who may be interested in providing premises for delivering driving tests to register their interest. A Prior Information Notice is being published in the Official Journal of the European Union and the agency hopes to attract interest from a wide section of the business community.
Published 27 March 2012