News story
More cuts in business red tape and bureaucracy
The cuts mean that firms can spend more time running their business and reflect the Government's ambition to make the UK the best place in Europe…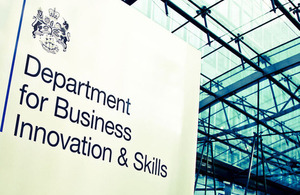 The cuts mean that firms can spend more time running their business and reflect the Government's ambition to make the UK the best place in Europe to start, finance and grow a business.
Actions taken include:
The Department for Business, Innovation and Skills' (BIS's) amendment of restrictions to move between International Financial Reporting Standards (IFRS) and UK Generally Accepted Accounting Principles (UK GAAP) gives business the flexibility to determine the most appropriate set of accounting rules for them.

HM Treasury's improved implementation of the EU Money Laundering Directive will ensure that the UK is a hostile environment for money launderers and terrorist financing while reducing the burden of regulation on legitimate businesses.

The Home Office's simplification of its criminal records disclosure and barring arrangements, making criminal records checks more portable and reducing the need for repeat checks.

BIS's Audit Exemptions will give small business and subsidiaries flexibility in how they submit their company reports.

Measures to be removed or simplified as a result of the Red Tape Challenge initiative, such as repealing the Smoke-Free Signs Regulations; and exempting small venues staging live music events from the 2003 Licensing Act.
Business and Enterprise Minister Mark Prisk said:
"These measures show we are making steady progress on the long road to a better regulatory environment for business. It demonstrates the effectiveness of the One-in, One-Out system, where Government only regulates when it is in the interests of the economy or clearly necessary for personal safety.
"Yes, it will take time for the difference to be felt by business, and some sectors will feel greater relief sooner than others. But I was encouraged by the recent Business Perceptions Survey, which showed that fewer firms feel that regulation is an obstacle to their business compared to 2009."
The measures were published today in the fourth Statement of New Regulation, which shows the continuing trend of deregulation. The cumulative report shows that since 2011, savings to business from cuts in regulation have outweighed the costs of new domestic regulation by over £850 million.
This reduction in burdens is despite the bulk of the savings in regulation delivered through private pensions' indexation in early 2011 being offset by pensions automatic-enrolment. This requirement has been deferred to the next Parliament for small businesses, to give them longer to prepare.
**Notes to editors
**
1. One-in, One-out means that any new Whitehall regulation that imposes a net cost to business must be offset by a reduction in regulatory costs elsewhere. It is about making government departments 'hesitate to regulate' - thinking twice about bringing in red tape that could hold business back from creating jobs and growth. Read more about how One-in, One-out works here: http://www.bis.gov.uk/policies/bre/better-regulation-framework/one-in-one-out
The Fourth Statement of New Regulation, which reports on the application of the One-in, One-out rule to new domestic regulation for the second half of 2012, can be found here: http://www.bis.gov.uk/policies/bre/one-in-one-out/statement-of-new-regulation

The Fourth Statement of New Regulation is being published 10 weeks in advance of the Common Commencement Date. Future statements will be published 12 weeks in advance of regulations coming into force.

The Government's economic policy objective is to achieve 'strong, sustainable and balanced growth that is more evenly shared across the country and between industries.' It set four ambitions in the 'Plan for Growth' (PDF 1.7MB), published at Budget 2011:
To create the most competitive tax system in the G20
To make the UK the best place in Europe to start, finance and grow a business
To encourage investment and exports as a route to a more balanced economy
To create a more educated workforce that is the most flexible in Europe.
Work is underway across Government to achieve these ambitions, including progress on more than 250 measures as part of the Growth Review. Developing an Industrial Strategy gives new impetus to this work by providing businesses, investors and the public with more clarity about the long-term direction in which the Government wants the economy to travel.
BIS's online newsroom contains the latest press notices and speeches, as well as video and images for download. It also features an up to date list of BIS press office contacts. See http://www.bis.gov.uk/newsroomhttp://www.bis.gov.uk/newsroom for more information.
Notes to Editors
Contact Information
Name BIS Press Office Job Title
Division Department for Business, Innovation & Skills Phone
Fax
Mobile
Email bispress.releases@bis.gsi.gov.uk
Name Aidan Steer Job Title
Division Department for Business, Innovation and Skills Phone 020 7215 5245 Fax
Mobile
Published 17 July 2012