More councils must be savvy shoppers
Communities Secretary Eric Pickles is calling on councils to make every pound go further in the face of the nation's £156 billion deficit.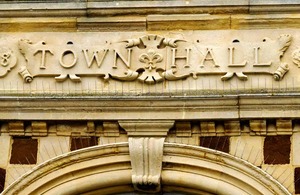 Ministers want to see councils working together to use their collective buying power and innovative technology like e-auctions to get better deals from their suppliers.
Joint buying across the board could help get better value for taxpayers money and avoid the huge differences in prices charged to different authorities for the same product.
The Office of Government Commerce found that only 12% of local government used approved collaborative deals, way below the recommended level of 50%.
"Supermarket sized budget and a cornershop mentality"
Secretary of State for Communities and Local Government Eric Pickles said:
Some councils have a supermarket sized budget but a cornershop mentality. This has got to change. Local authorities need to look at where every penny is going and what that money is delivering.

Shining a light on spending will help to put savings before cuts. Whilst councils have already delivered significant efficiencies there is still more excess waste to cut back.

A renewed and concerted focus on better procurement, greater transparency and shared services that puts the emphasis on productivity above processes will end duplication, wasteful spending and wasteful working.
Next week the Local Government Association will host an 'enhancing productivity' meeting chaired by Eric Pickles and Baroness Eaton to help councils improve value for money, procurement practices and collaboration in an effort to protect services.
The Secretary of State has also written to councils to tell them they must do their business openly and transparently and called on them to publish details of all spending over £500 in full and online.
Greater transparency will root out wild overspending, expensive mistakes and waste and could be the key to saving the public purse millions of pounds.
For example the Audit Commission has abandoned plans to appoint a new Chief Executive after Eric Pickles, the Communities Secretary, said the proposed remuneration deal on offer was against the spirit of public sector austerity and that it would send a signal to councils across the country.
Facts and Figures
local government spends £42 billion a year on outside contracts including everything from construction, IT, telecoms and catering; that is more than the national Gross Domestic Product of 90 countries including Luxembourg, Jordan and Albania
councils own and maintain a lot of assets - there are 470,000 civic buildings; over 50,000 vehicles including more than 6,000 bin lorries; and 1.27million computers
the National Audit Office found that in some cases there are huge differences in the prices parts of the public sector, including councils, are paying for goods and services
the cost of toner cartridges can vary between authorities by up to 745%
the cost of envelopes varied between £2.04 and £9.13, and paper costs varied across councils from £6.84 to £14.79
Published 16 June 2010