More cash available through the Regional Growth Fund
A new round of the Regional Growth Fund opens today.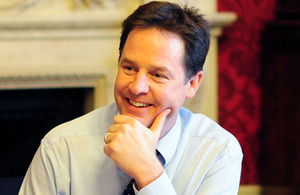 A new round of the Regional Growth Fund opens today as the Deputy Prime Minister called on businesses across the country to bid for a share of the £350 million cash pot.
The Regional Growth Fund has already helped 180 projects get started, creating and safeguarding local jobs and attracting significant private sector investment.
Deputy Prime Minister Nick Clegg said:
The Regional Growth Fund is already proving a shrewd investment by providing a welcome boost to jobs and growth across the country, with thousands of jobs created, businesses expanding into new markets and manufacturing new products. With this next round of funding, I would urge England's budding businesses to produce  top quality bids  to access the money that can help them grow.

There'll be stiff competition, and we can only invest in those projects that will lead to sustainable jobs and the best value for money. Boosting jobs and growth is our number one priority for Britain right now. That is why I am so pleased to be opening a fourth round of the Regional Growth Fund which supports growth across a range of industries.
The Business Minister Michael Fallon will also encourage firms to apply while on a visit to the manufacturer H V Wooding in Hythe, Kent, which obtained funding via the East Kent expansion programme.
Business Minister Michael Fallon said:
The Regional Growth Fund is playing a pivotal role in supporting business and enterprise. Jobs are being created, money is being invested and the fund is making a difference. This additional round and the improved processes we have put in place will help keep the momentum going.

Take H V Wooding in Kent, where our support is releasing private investment giving them the confidence to invest, hire and grow. I want more companies to come forward and apply to Round 4 or look out for similar opportunities through their local enterprise partnership.
The Deputy Prime Minister confirmed that the Regional Growth Fund is progressing well with 180 projects having started (89 per cent). Projects from the first three rounds have pledged to create or safeguard over 500,000 jobs along with an injection of £13 billion private sector investment into the economy.
On his visit to two companies already benefiting from the Regional Growth Fund in Leeds and Huddersfield, the Deputy Prime Minister said:
Surgical Innovations in Leeds secured £5.05m of the fund which will see the firm catalysing a health technologies hub for the city and create hundreds of jobs. Cummins Turbo Technology in Huddersfield is able to push ahead with a cutting edge project that will make them leaders in turbo-charging technology.

Just like in Yorkshire, local economies across the country are seeing the direct benefits of this funding through new jobs and additional investment. That is what the Regional Growth Fund is all about.
The Regional Growth Fund is helping to rebalance the economy by investing in companies that can create jobs and attract substantial match-funding from the private sector. For every pound of government money, the private sector is putting in six pounds.
Round 4 of the Regional Growth Fund will close to applications on 20 March at noon and bids will be appraised as quickly as possible. Potential applicants should look out for expressions of interest events in their region for support and further help with the application process. The first of these will be in Manchester on 31 January 2013 and is open to any organisation interested in bidding.
Selected bidders from Round 3 are currently agreeing terms and conditions for their final offers from the accelerated timetable which was announced in October 2012. This process and deadlines will be matched in Round 4 and all offers will be confirmed within six months.
Notes to editors
The Regional Growth Fund (RGF) is a £2.6 billion fund operating across England from 2011 to 2016. It supports projects and programmes that lever private sector investment to create economic growth and sustainable employment. The first three rounds will leverage over £13 billion of private sector investment and create or safeguard over 500,000 jobs.

The additional funding was announced in the 2012 Autumn Statement as part of a range of measures to target help for businesses and rebalance the economy to drive growth.

The minimum threshold for Round 4 applications will be £1million. SMEs can get support through successful RGF programmes. For more information on how to apply please visit www.gov.uk/understanding-the-regional-growth-fund

The expression of interest events are so far confirmed for the following locations:
North West 31 January - Manchester
West Midlands 6 February - Birmingham
Yorkshire and Humber 19 February - Leeds
North East 20 February - Gateshead
East Midlands 25 February - Nottingham
Dates for the South West and South East will follow shortly.
The Government will publish progress with contracting bidders selected from Round 3 next week. Almost all bids have signed conditional offers and are currently working through due diligence.

Regional factsheets and case studies are also available which can be obtained by ringing the BIS press office on 0207 215 5945.

The Regional Growth Fund works with the Government's Industrial Strategy; supporting local priorities, creating jobs and enabling private sector investment for the long term. The Regional Growth Fund overlaps with key sectors in the Industrial Strategy including automotive, aerospace, energy and life sciences. This is the Government's commitment to growth in action to encourage investment and exports to lead to a more balanced economy.
8. Projects are a type of RGF bid for funding which go direct to the final beneficiary whether it's a company, local authority or non-profit body. A programme is a type of RGF bid which will be awarded to an intermediary who will then use it to run a grant or loan scheme for final beneficiaries, or develop infrastructure to enable business growth.
Published 17 January 2013