Press release
More anglers caught fishing illegally in the north east
Enforcement officers checked 1,064 anglers over the Easter Bank Holiday weekend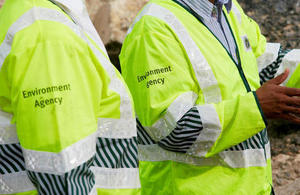 Anglers in the North East of England are being reminded to obey the law after Environment Agency enforcement officers caught 34 people fishing illegally over the Easter Bank Holiday weekend.
Spot checks were carried out on all of the north east's major rivers and most large stillwaters over four days, ensuring that anglers were properly licensed and following seasonal rules.
Some 1,064 anglers were checked: 27 were fishing without a licence, and seven close season bye-law offences were detected.
This weekend's operation follows similar enforcement action that saw 11 anglers caught fishing illegally in the first three weeks of the close season, which began on 16 March.
Kevin Summerson, fisheries enforcement team leader at the Environment Agency, said:
This weekend we were targeting anglers who persist in using illegal baits in rivers during the close season.

The close season in our rivers is important to allow migratory fish time to breed and spawn, and certain baits that are more attractive to coarse fish are banned at this time to reduce the opportunity of game anglers inadvertently catching freshwater fish.

We also checked anglers at stillwaters and reservoirs to ensure they were fishing with a valid licence. This is important because the revenue from licence fees goes back into improving fisheries, be that water quality, habitat or compliance.
Anyone who suspects illegal fishing to be taking place should report the matter to the Environment Agency's incident hotline, on 0800 807060.
Published 23 April 2014