News story
Moore welcomes energy infrastructure investment.
New details of reforms published today expected to bring significant renewables deployment in Scotland.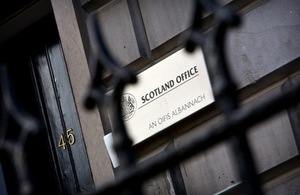 Commenting on the announcement today by Energy Secretary Edward Davey on the potential scale of energy infrastructure investment, the Secretary of State for Scotland Michael Moore said:
"Today's announcement shows the UK Government is working to provide a good deal for all consumers, ensuring that Scotland reaches its full potential in renewables by sharing the costs of development across the UK.
"Under these reforms we expect to see significant renewables deployment in Scotland with the delivery of onshore wind farms already in the planning system and four large scale offshore wind farms that could come forward in the first Delivery Plan.
"Coupled with the Government's commitment today to consult in the summer on additional support for renewables projects located on the islands, this demonstrates that Scotland is reaping the rewards from being at the heart of UK Energy policy."
Note to editors
The full DECC press release and details of the potential scale of investment, growth and job opportunities available in the energy economy can be found here.
Published 27 June 2013