Moore urges Scotland's coastal communities to seize multi million pound funding chance
Michael Moore has urged Scotland's coastal communities to apply for a multi-million pound fund designed to support economic development.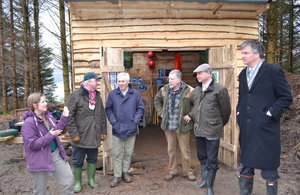 Today the Chief Secretary to the Treasury, Danny Alexander announced that over £4 million will be available for projects in Scotland in the second round of Coastal Community Funding (CCF).
The CCF is designed to boost the economic development of coastal communities and supports a wide range of projects such as those that support charities, improving skills or safeguarding the environment. Projects are chosen on their ability to support sustainable growth and jobs in coastal communities. Last year projects such as Eyemouth Harbour Trust were amongst nineteen successful bids across Scotland to receive funding.
The Secretary of State said:
"I welcome the Chief Secretary's announcement today. The wide variety of projects that received funding last year is testament to the innovation shown by Scotland's coastal communities.
"I hope many more coastal communities projects in Scotland will be able to take note of last year's successful bidders such as Eyemouth Harbour Trust and put forward their own creative proposals which will help the wellbeing and opportunities of people and strengthen local economies.
Chief Secretary to the Treasury, Danny Alexander said:
"Last year we helped organisations around the UK invest in their communities through the Coastal Communities Fund, and I'm delighted that growing marine revenues from the Crown Estate have allowed us to increase the pot by over 15 per cent this year."
"From transforming the Kintyre Way, developing a falconry centre in Conwy and giving Swanage and Wareham back their rail link, the funding has made a huge difference to small communities across the UK. The fund was a huge success last year and I'm sure year two will be just as popular."
The Coastal Communities Fund is financed by the Government from revenues directly linked to the revenue from the Crown Estate's marine activities from a specific area, with separate funding for England, Wales, Northern Ireland, the Highlands and Islands and the rest of Scotland.
Successful bids in Scotland from last year's coastal community fund allocations were:
From the Highland and Islands
Bute Forest Ltd - £71, 285 to launch a community timber products business, boosting local jobs and tourism
Comhairle nan Eilean Siar £283, 341 for a new, modernised harbour
Isle of Gigha Heritage Trust – £270, 925 to redevelop the old harbour
Argyll and Bute - £369, 199 for new water sports facilities and apprenticeships schemes
Skye Sailing Club – £358, 708 to renovate the boat house in Portree , create jobs, tourism, and provide training opportunities for local industries
Thurso Harbour - £73, 360 to develop access to Thurso harbour
The Long and Winding Way Company Limited – £ 240, 000 to develop the Kintyre Way to become a world class tourist attraction
Lochaber Fisheries Trust – £75, 882 to ensure the long-term viability of historic fisheries and educational facilities
From the rest of Scotland:
Seton Care training and employment programmes – £50, 000 to provide training and work experience for young unemployed people
Eyemouth Harbour Trust – £115, 487 to install infrastructure for water sports
Eyemouth Museum Trust Limited – £ 60, 000 to develop Eyemouth Museum
Forth Estuary - £230, 000 to develop access to wetland habitats creating apprenticeships and job opportunities
Irvine Bay– £90, 000 for regeneration of the Bay
West Links fishing community, Arbroath- £220,000 to develop infrastructure for tourism, providing employment, volunteering and vocational opportunities
Inverclyde Waterfront coastal trail – £370, 812 to create a coastal trail along the Inverclyde Waterfront
Leven social enterprise scheme – £175, 000 to create a wide range of training opportunities in sustainable schemes
Marine Biological Station – £ 100, 000 to build a state of the art of a teaching facility containing two lecture theatres and two laboratories.
Scottish Maritime Museum Trust – £ 221, 275 to establish a boat building workshop and apprenticeship programme at the Scottish Maritime Museum in Irvine
East Lothian Council – £270, 916 to develop paths and bridges along the John Muir Way, providing better access for cyclists and walkers
Published 13 March 2013