News story
Monumental move for reactor relic
The commemorative table from Dounreay's Prototype Fast Reactor has moved to Nuclear, the Caithness and nuclear archive.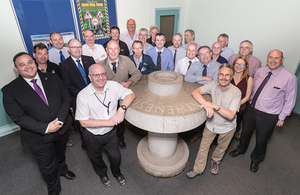 After sitting pride of place in the foyer of Dounreay's Prototype Fast Reactor (PFR) for almost fifty years, the commemorative granite stone table has found a new home.
On Sunday June 12, the inscribed stone table was lifted out of the former reactor building and taken through to the Nuclear Decommissioning Authority's (NDA) nuclear archive in Wick and placed in storage ready for the new building to be opened early next year.
DSRL's heritage officer, James Gunn, said: "The table was commissioned for the official opening ceremony of PFR in June 1966, where the first turf was cut in front of the old farm cottages that have since been demolished. "Preserving our industrial heritage for future generations to enjoy is a crucial part of our decommissioning programme."
Anna MacConnell, NDA's stakeholder relations and socio economic manager, said: "The PFR carved stone symbolises the pioneering nature of the work done at Dounreay and its important part in the history of the nuclear industry worldwide.
"It also marks an important chapter in the history of Caithness. It is fitting that the carving will stay in the county and be given pride of place at the entrance to Nucleus, the NDA and Caithness Archives."
Nucleus will become the single facility to collect and store relevant records from all the civil nuclear sites in the UK. The archive will be accessible to the industry, for international research and to the public. Many records will also be digitised.
Published 30 June 2016